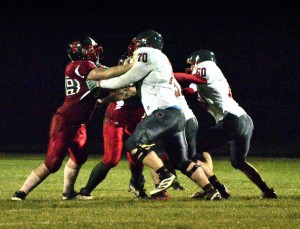 It is no secret to those of you who know me that I love the lower classifications of high school football. Sure most teams aren't filled with D1 athletes, but those players are sprinkled here and there throughout the state. That being said, I introduce you to Coupeville junior lineman Nick Streubel (6-3 280).
This past summer I spent many days touring western Washington going to 7-on-7 events and even a few practices to meet coaches and see players. One day I made it out to Whidbey Island to visit coach Tony Maggio and the Coupeville Wolves. I briefly spoke to coach Maggio and he beamed about Nick.
Watching practice it became evident that Nick has a lot of the physical tools needed to play at the next level. He clearly has the size and strength, but it was his mobility and quickness that sold me.
Playing in a Wing-T offense, Streubel really needed to prove that he has the ability to pass block. In January he began attending out Elite Events and has been a pleasant surprise. Not only can Streubel pass block, but he can do it against some of the best competition in Washington and Oregon.
Speaking to NEI coach Maggio said, "He is a monster run blocker, pancakes kids but what is surprising is his ability to pass protect. His footwork is very good for a big man."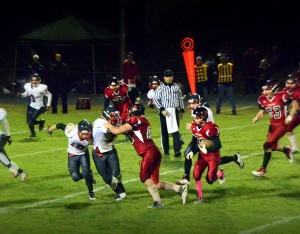 As good as he is offensively, he is equally good defensively. "Sophomore year is actually the first time I really got to play offensive line which I feel is my true passion," Streubel said. "Don't get me wrong I love playing defense and getting tackles, but offense feels right."
For his efforts as a sophomore, Streubel was voted All-League on the offensive line. When the time came to give awards for the 2012 season, Coupeville players were not allowed to be voted for because they did not play a full league schedule. This to me is a perfect example of adults ruining it for the kids, but that is a argument for another day. Streubel surely would've been 1st team All-League as he was one of the more dominant lineman in the conference.
Streubel is a bit of a football junkie. He clearly loves the sport and will do anything to play at the next level. To get to our events Streubel must either take a ferry or drive almost 2 hours one way through Mount Vernon.
"Nick is naturally very strong, and has really worked in the weight room hard this year," said coach Maggio. "He is a yes coach no coach kid, great student and competes in every drill at a high level."
Nick is a three sport athlete also competing in basketball and track. His athleticism shows in the way he plays. If you wanna see one of the best plays a lineman can ever want to hear called, fast forward to the 1:30 mark of Streubel's hudl video. He starts as the RG, takes the ladder after the hook and rumbles for about 15 yards before being tossed out of bounds into the mud. Surely a play that will make all former lineman smile.
Some people are born with a mentality to outwork others, Nick is a player that knows no other way. He has great family support and a coach that is driven to make his players the best possible. Following Nick's progress and improvement over the next year is something I can't wait to be a part of.