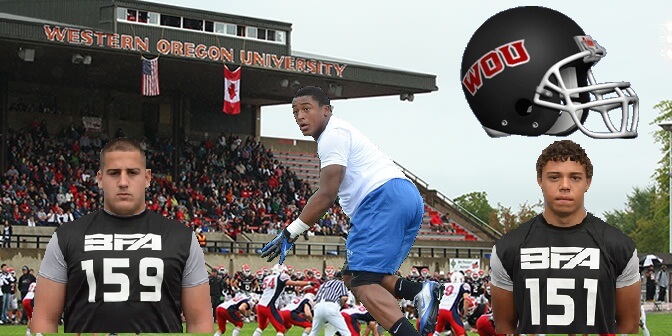 Its a cool thing when you see a local program go out and get a phenomenal recruiting class, especially when they are local standouts. Head Coach Arne Ferguson and his staff did a remarkable job of getting a bunch of legit D1 talent to come in and play at the up and coming D2 school.
Lip service aside these are the type of coaches and men that you want your kid to come play for. Everything they do is based around the athlete doing what they need to do in the classroom and in life, as we as a staff at NEI and The Barton Football Academy cant wait to follow the progress of Western and its athletes.
Jordan Johnson-NEI
Devauntae Hoffman (5-8 190, RB, Gresham) – Three time 1st team all league athlete, Two time Mt Hood Conference Player of the Year and one of the best kids you will ever meet. Hoffman is a legit D1-AA athlete and will be one of the best backs to ever come through Monmouth. His 60+ Tds over the last three years at Gresham speak to his dominance.
Reiley Henderson (5-10 185, CB, Skyview) – Henderson is a legit Pac 12 corner and that's truth. Props to Western for grabbing the top DB in Washington who will be playing multiple sports at WOU. He is also one of the best baseball players in the region. Reiley will be a D2 All American at Corner and potentially one of the best players to ever play at Western. He is that good.
Mike Kluge (5-10 185, DT, Aloha) – 1st team all league athlete that is one of the strongest players in the country. If he was 2 inches taller he would be playing D1 football, as he was a three year starter and all league athlete for an Aloha team that won the 2010 state championship.
AJ McCollum (6-2 265, C, Aloha) – He was 1st team all league athlete on both sides of the ball for Aloha and is another kid that is a legit D1 talent. He was the most impressive lineman on our Team Oregon squad that traveled with us after Christmas to our bowl all star game. That O line featured 3 D1 kids in Austin Powell (Portland State), Ryan Brown (Portland State), and Chris Miedema (Idaho State) and AJ was the leader.
Chet Spears (6-2 300, DT, Sheldon) – 1st team all league and all state kid that can move mountains. One of the best heavyweight wrestlers in the country and someone that will be a game changer for the Wolves. Between him and Kluge opponents will not be running up the middle. 2012 state champion and a kid that is just going to get better.
Jordan Berni (6-0 185, QB, Skyview) – Not a lot of people know how good he is, because he spent most of his career behind Portland State QB Kieran McDonaugh. The kid is real. Berni can run as well as throw and he is tough. Jordan is definitely a dual threat QB.
Jake Weddle (6-3 220, ATH, Glencoe) – If there was an award given for a kid that was super talented and that most people don't know about yet, it would be Weddle's. He has a legit D1 frame and came on late while at Glencoe after transferring from Hillsboro.
Ambrose Soh (5-10 185, RB, West Salem) – NEI Oregon Coach of the Year Shawn Stanley speaks very highly of Soh, as he broke out as the season progressed. His 6 Td performance against Aloha in the 2nd round of the playoffs highlighted a special season for the Titans.
Fergus Frederickson (6-3 250, DE, Central Catholic) – Three year starter and two year all league athlete for the Rams that helped Central Catholic allow the fewest points in the state among 6A competition. Fergus has legit size and a huge upside as he hasn't even come close to reaching his potential.
Devin Ceciliani (6-1 185, WR, Madras) – Ranked as one of NEI's top WRs in Oregon. 1st team all league on both sides of the ball. 2,300+ All-Purpose yards and 23 TDs.
** We will continue to update you on the remaining athletes that are part of this recruiting class… It's definitely a special group. **
**UPDATE: REST OF 2013 CLASS**
| | | | | | |
| --- | --- | --- | --- | --- | --- |
| Trebriel Larry | DB | 6-0 | 185 | Glencoe | OR |
| Tyler Johnson | LB | 6-1 | 230 | Willamette | OR |
| Devvon Gage | LB | 6-2 | 215 | Sprague | OR |
| Stephen Foley | OL | 6-5 | 250 | Junction City | OR |
| Josh Joyner | DL | 6-3 | 275 | Dayton | NV |
| Taylor King | OL | 6-2 | 285 | YUBA JC | CA |
| Palmer Sandel | OL | 6-5 | 280 | Blaine | WA |
| Matt Hollen | OL | 6-3 | 310 | Victor Valley JC | CA |
| Phillip Fenumiai | QB | 6-2 | 190 | Douglas | AK |
| Ardie Moreland III | OL | 6-2 | 185 | Chabot | CA |
| Kui Williams | DL | 6-4 | 235 | McKinley | HI |