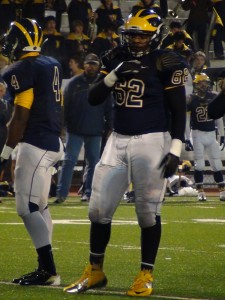 Earlier today it was good to hear from Marcus Griffin (6-3 285 Jr. DL), the big man from Bellevue, as he landed his first D1 offer from Washington State. The Cougars made a great move offering the standout lineman, as he projects as a kid that should have double digit D1 offers before he is done.
We reported on Griffin and his teammate Shane Bowman (6-4 235 Jr. DE), who is the #2 ranked D lineman in Washington about a week ago. Griffin's upside is through the roof as he is a kid that brings the ultimate work ethic and a team first personality to the table. Referencing his first offer Marcus said, "My father called me with the news and it just felt unreal, it still feels unreal… I just feel so blessed to be in the position that I am right now".
Griffin has been dominant at our Elite Events early in the off season, and is fresh off another undefeated state championship season with the Wolverines that saw them finish as maybe the top team in the country. Marcus will have multiple Pac 12 offers, and its good to get one from the in state school.
Bellevue featured one of the best defenses in America and the damage they did started up front. Marcus is looking to squat 700 pounds before he is done with high school, so it would be accurate to say he is a weight room kid.
Expect the Wolverines to once again be ranked one of the top teams nationally next year, and for Griffin to have one of the biggest off seasons of any player in the region. He's a quality kid and an NEI favorite, that we look forward to working with and following in the coming season.