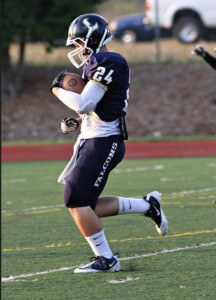 One of the top sophomores in the state that not a lot of people know about yet is Austin Mason (5-9 170 So. RB/DB) out of Liberty. He is a kid that exemplifies what hard work is all about, as we have seen him out at our elite events every week they have been held.
The Falcons had a tough time in the win column in 2012, and Mason is the type of kid that you can build around. Austin isn't the biggest kid, but displays outstanding versatility as he played three varsity sports as a freshman. Regardless of where you go to school this is something tough to do.
He says, "Our team motto last year was 'No Regrets' and I took that to heart leaving everything on the field..Even though I was a sophomore on varsity I took it in my own hands to be the best I could for my team". Liberty went (1-9) last season so they are anticipating a much better year in 2013.
Austin added, "Next year I want to be the leader of our team and definitely get first team all league honors at running back". He continued, "I gotta give it up for all my lineman, and specifically Zane Chitwood who made a big impact on our team this year getting honorable mention all league".
The Falcons lost two big time talents in Bret Bafaro and Evan Eggiman to graduation in 2012, and they are looking to get back on track. Bafaro was a kid we got to know well as he was one of the more outstanding student athletes we have ever come across. His talents are now on display at the University of Oregon, while Eggiman is playing for Utah in the Pac 12.
Austin doesn't project to a Pac-12 school, but he's someone that is a game changer and will be the foundation of the Falcon program over the next couple seasons. You can expect Mason to be one of the top 10 ranked RB's in Oregon for the 2015 class, and also be a four year all league athlete in Lacrosse.
Overall I think everyone in the Liberty community would agree that they have some work to do in preparation for next season, but they have a few pieces in place that they can feel very good about. Austin has looked outstanding against the top competition in Oregon over the last month, and we are excited to see what he can do moving forward.