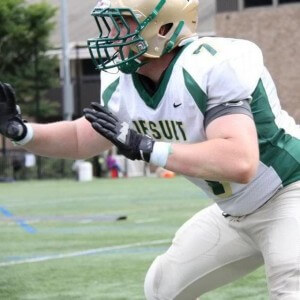 One year removed from one of the best O line classes in state history, the Jesuit Crusaders will feature a bunch of new kids up front. In 2012 the Oregon state power had 4 high level D1 offensive lineman. Doug Brenner (Oregon), Andrew Kirkland (Washington), Max Rich (Harvard), and Ryan Brown (Portland St) all earned full ride scholarships, on a Crusader team that were just plays away from a state title appearance.
Miller has come out to our elite events and been one of the most impressive kids in either state. His performances thus far have him jumping up into our Top 10 OL rankings state wide for the 2014 class. He has developed quickly, and shown the work ethic necessary to be considered one of Oregon's top kids.
Mike will team with two returning starters from last year, in Charlie Landgraf and David Brugato, to provide the run happy Crusaders with a stable core group. Jesuit returns some of the region's top skill kids in Joey Alfieri (6-3 220 Jr. LB/FB), Henry Mondeaux (6-5 245 Jr. TE/LB), Christian Martinek (6-4 220 Jr. QB/DE), Trent Werner (6-1 190 Jr. Slot/S) , and Chase Morrison (5-10 170 So.RB/CB).
Miller's upside is through the roof as he has legit size (6-4 285 Jr. OL) and a workman like mentality. Highly respected O line coach John Andreas has helped countless lineman proceed on to D1 level play, and Mike has the potential to be another elite college lineman.
With all of the talent the Crusaders had up front last season, playing time wasn't as extravagent as it would have been on most teams. That said there were plenty of positives, getting to go against some of the northwest's best every day at practice. Referencing the elite events and next season Mike says, " the Barton events have been great and really helped me with my game, and all of us are looking forward to next season and getting that title".
Jesuit will most likely come in NEI's #1 ranked team in 2013, and will once again rely on the up front group to make room for the elite skill kids. We have been thoroughly impressed with Miller on every level so far this off season, and we look forward to seeing his continued progression as the season draws near.