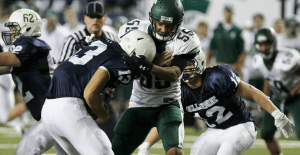 It seems like on a weekly basis we have a player attend our Elite Event that just blows us away. A few weeks ago, that player was DL Josh Wright (6-2 225, Jr.) of Skyline.
Stepping in against some of the best OL in Washington, Wright showed right away he was going to be a force. His athleticism during the drills was instantly shown and the day only got better from there. During the one on one portion of the day, he really began to show his ability to get to the QB.
Wright is one of the more explosive defensive lineman in the state and runs a reported 4.75 in the 40. That speed off the corner allowed him to finish with 9 sacks on the season, resulting in 50 yards lost. Watching his highlight film you will see the abilities I am describing.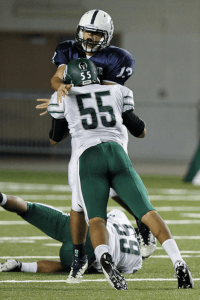 Last season was big for Wright in terms of production. To go with those sacks, he finished with 54 total tackles, including 5 for a loss. He also teamed with 1st Team All-KingCo OL Reggie Long on the right side of the offensive line for the State Champion Spartans. For his efforts, Wright was awarded with as an honorable mention in the KingCo 4A Conference.
The sky is the limit for Wright. He continues to grow and has the frame to add more weight. One question may be which position he plays at the next level. He is a kid that has the athleticism to play the LB spot, but as of right now we project him to the DL, and have him listed as an honorable mention. When our new defensive player rankings are released, you can be sure Wright will be moving up the rankings.
When the 2013 season comes around the Spartans will have a new look. They lose the National Player of the Year in QB Max Browne as well as every offensive weapon Browne had. Defensively they lose nearly as much as they do on offense, but one spot they could be pretty good at is along the line.
Along with Wright they also return 2nd team All-KingCo DL Elliot Welnak. Reggie Long also saw some time on the defensive line in 2012 and should see his role increase. The Spartans will be fairly thin behind the line, and play in the trenches could be a key factor in the Spartans quest for a third straight state championship.
We are big fans of head coach Mat Taylor and the job he has done at the helm on the plateau. We will keep you updated and you can expect to hear more from the Spartans before the season begins.