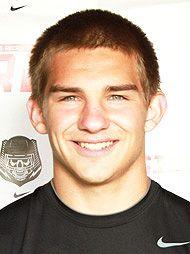 One of the best things about our elite events is that it allows the top kids to get out and compete against one another regardless of how their individual school does. Michael Gaskell was the only all league athlete from a Hillsboro team that went (0-10) and got blasted a majority of the time.
Gaskell has come out and been nothing short of phenomenal this early off season, getting out to every elite event that we have had. We love to see kids like Michael that are wiling to work, and understand the necessary grind that it will take to make it at the next level.
There is nothing fun about not winning a ball game, but Gaskell has been up beat and positive. He says, " Team goals this year are to make the playoffs, and with a new set of coaches everyone is excited and expecting to go out and win". He continued, " This is the year we turn things around".
Michael has not only been at each elite event, but has been one of the better skill kids in attendance. At the next level he projects as a DB, but will be the Spartans go to guy next season offensively. You can bet Hillsboro will ride his coat tail for as long as they can in 2013.
Gaskell says, " I would like to earn 1st team all league honors on at least one side of the football, and in return get noticed by some colleges". He added, " I realize all of the work i'm going to need to do to get there, but im up for the challenge".
The reason NEI was created was so that we could help all athletes of the northwest. Michael is a perfect example of a kid that is a baller, but just in a difficult situation. We have nothing but good things to say about the kid from Hillsboro, and we look forward to bringing you updates as the year continues.