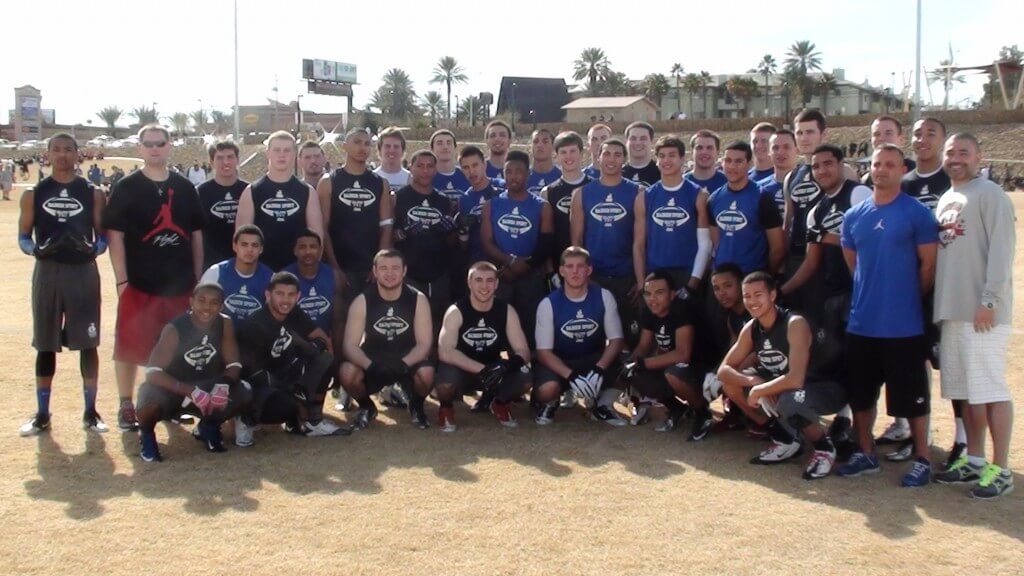 NEI – South (Oregon) – 4-1 Sweet Sixteen appearance
NEI South 8 – Gardena, California 0
NEI South 44 – Las Vegas All Stars 0
NEI South 7 – Stockton, California 6
NEI South 6 – Game Breakers (Los Angeles) 0
Utah 12 – NEI South 7
The kids primarily from Oregon and SW Washington did a very good job this past weekend in Las Vegas, as NLA (New Level Athletics) put on their annual regional tournament with some of the top teams from across the country.
The NEI South defense was the story of the tournament as Aaron Washington Jr. (5-9 170 Jr. CB/Slot Central Catholic), Mitch Fettig (6-1 175 Jr. Olympia, WA) , Trent Werner (6-1 190 Jr. S Jesuit), and Sam Bodine (6-3 220 Jr. LB/S Canby) were all listed among the individuals up for the all tournament team.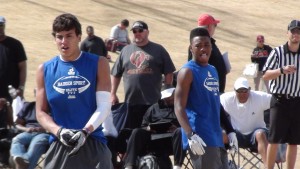 In total the defense gave up 3 Tds in 5 games with 12 Int's, making a case that they were the top defense in the 50 team tournament. Washington showed why he is considered the #1 ranked corner in the state of Oregon, with 4 Int's and countless other breakups. Aaron also got in the mix offensively scoring multiple Tds, proving that he is one of the most versatile players in the entire region.
Fettig would be the other kid who had a monster tournament on both sides of the ball, and had media talking everywhere. Werner of Jesuit was the lone athlete representing the state's toughest conference (Metro) and went on lock down mode over the weekend. He had one of the best tournaments of any athlete in attendance while very talented DB Manu Rasmussen (6-0 175 Jr. DB/Slot) kept the Oregon based team in games as opponents couldn't get in the end zone.
Kolleh Mitchell out of Putnam had a phenomenal tournament as well, as he played mistake free football from his safety position. Zach Farnes (6-1 200 Jr. S) out of Clackamas is ranked as one of the state's top safeties, and was injured for the tourney but is an NEI favorite and made the trip to support the team.
Linebackers Bodine, Gianni Carbone (6-1 215 Jr. LB Skyview) and Nick Underwood (6-2 215 Jr. LB Lake Oswego) were the other kids who did what they needed to do, keeping opponents offenses in check. Bodine could be the fastest rising recruit in the northwest, while Carbone and Underwood both split time at backer doing a phenomenal job covering ground.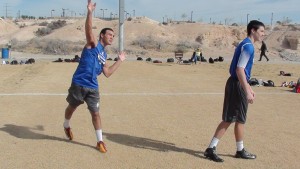 Offensively, South QB's Ross Bowers (6-2 185) out of Bothell, WA, and Aidan Wilder (6-0 195 Jr. Central Catholic) did great work leading their teams and being part of 4 wins in 5 games. Bowers is considered one of the top sophomore QB's in the country, and Wilder is ranked OR's #1 Jr. QB in the state.
Maybe the surprise of the weekend was WR Zack Davis (5-11 175 Jr.) out of Central Catholic. He came up time and time again with clutch receptions and really proved himself on multiple levels. Sophomore WR Jared Evans (6-3 190) represented Southern Oregon well out of North Medford and is considered a top receiver for the 2015 class, while Garrett Hittner (6-2 185 Jr. WR McNary) and Jaray Kindell (6-0 175 Jr. WR Lincoln) both got in the mix with multiple catches over two days.
Brody Haehlen is considered one of Oregon's top two way threats, not catching a ton balls in the tournament, but showing outstanding size and versatility for a big man. Haehlen is a kid that every team wants to have on their side. Last but not least was the state's #1 WR Deshawn Stephens, who always requires double teams and makes teams adjust. Stephens battled injuries, but is as talented as they come and consistently came up big for the South.
Overall the NEI South kids have a lot to be proud of. The kids battled all week long and beat some very good teams out of California. Its these type of performances that help the NW gain relevancy on a nationwide level, and the Oregon kids 4-1 record only helps to make the case that much more clear.
NEI – North (Washington) – 1-3
AZ Prep Star Air Strike 24 – NEI North 21
Upland, California 7 – NEI North 6
NEI North 18 – San Diego, California -12
Stockton, California 13 – NEI North 0
NEI (North) of Washington played relatively well early, but lost their first two games in pool play by a total of 4 points. QB's Pierre Le Dorze (6-2 220 Jr. ODea) and Eric Dungey (6-4 185 So. Lakeridge, OR) got things going early in the tournament with Dungey going deep twice in the first game.
Dungey hit elite sophomore slot Keynan Foster (5-9 160 Jackson), while Le Dorze hit talented RB Conner Baumann on passes covering the length of the field. Foster is one of the more electric players in the state, and Baumann continues to impress.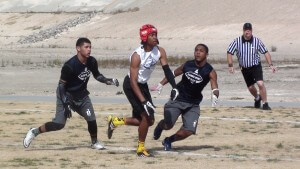 Sophomore standout Chico McClatcher (5-8 175 Federal Way) was one of the best players in the entire tournament, and was the only athlete in either state that currently holds big D1 offers (Washington, Utah). McClatcher is not only a special talent, but one of the most focused athletes anywhere in the northwest.
Two receivers that stuck out for North over the weekend were Jackson Keimig (6-4 190 So. Redmond) and Sam Mix (6-1 Jr. 180 Skyline). Keimig made continuous diving catches, and Mix got in the endzone and made some important receptions for the Washington kids.
Keenan Curran (6-3 190 Jr. S) of Federal Way came in ranked WA's #2 ranked Safety for the 2014 class and did a good job patrolling the secondary for the North, while sophomore Terin Adams (5-11 165 Juanita) was a huge bright spot for the Washington squad. Adams was a lock down corner for most of the weekend and was probably the most consistent DB.
High profile back Myles Gaskin out of O'Dea did his thing and will be one of the state's top players over the next two years, but it was teammate Justus Ross of O'Dea that stole the show over the weekend consistently being in the right place at the right time. Ross may have been the defensive MVP for the North.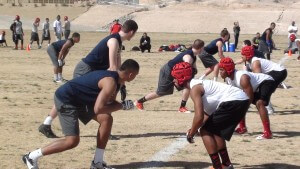 Linebacker/Safeties Vere Waqaituinayau (5-11 205 So. Juanita) and Lou Millie (5-10 190 Jr. Bellarmine Prep) both maintained a physical presence, while Beamer standouts Adrian Shocks (6-1 170 Jr. WR) and Dashay Ware (5-10 165 So.) are two of the more athletic kids in the entire state of Washington.
Shocks is more of an offensive threat, and Ware is a ball hawk that tied for the state lead in INT's with NEI North teammate Caleb Lyons (5-9 175 Jr. Lakes). Lyons is one of the best overall players in Washington and proved he could play anywhere this past weekend.
Two other receivers that played a key role were Drew Griffin (6-1 200 Jr. Bellarmine Prep) who caught multiple balls, and sophomore standout Jackson Gardner (6-6 225 Ingelmoor) who is one of the top ranked TE's in the region for the 2015 class.
For those of you with a Scout.com subscription, here is a link to an article by Jake Worthen previewing the Northwest…