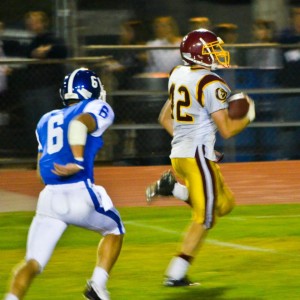 A kid moving up the charts as quick is anybody is O'Dea Jr. FB/LB Jack Flor (6-2 215). Many may be familiar with the last name as his brother Sam Flor was a talented lineman at the school just a few years back. Sam currently resides as a full ride D1 athlete currently at Washington State.
Tradition within the family runs rampant as Jack had two grandfathers play a high level of collegiate football. One was a tackle for Notre Dame back in 1960, and the other a halfback for Washington State back in the 1940's. Add to that his father playing TE for Santa Clara in the 80's and you have what amounts to a very appealing family tree.
Jack brings the full package to the table, and put his skills on display a few weeks back at our NEI/Barton Washington Elite Event. His ability to cover ground from his linebacker spot was very impressive as most people know him as a running back. He was O'Dea's Offensive Player of the Year last season, starting at fullback and scoring 8 Tds while rushing for over 900 yards.
Flor earned 1st team all league honors at fullback and will start both ways next season, after splitting time at the backer position last year. Some people don't know that Jack's overall athletic ability is off the charts, as he has been able to dunk a basketball since his freshman season and is also an outstanding track athlete.
Academically Flor is a phenomenal student. He has a 3.67 GPA taking all honors classes, and has been elected co class president for the past three years. His athletic ability and genes, combined with his smarts make him a legit D1 prospect. Jack says, "I take AP Latin and will be going to Rome at the end of the month". He continued, "I'm excited for next season and will start on both sides of the ball.. I feel like if we do what we need to do over the off season we will be in a good position to win a title".
Over the next week we will be releasing our updated defensive rankings for the 2014 class, and you can expect Flor to be making as big a jump as any athlete in the state of Washington. Jack's upside is through the roof and he is an even better kid off the field. We will continue to bring you updates on Flor as the off season continues.