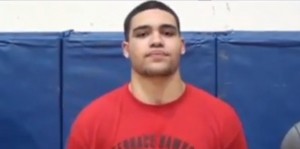 It was good to hear from the do it all kid, Devante Downs (6-3 235 Jr. RB/LB), after receiving his 10th offer from the University of Arizona earlier today.
The Mountlake Terrace product is one of the most recruitable kids in the county, as he is equally talented on both sides of the ball. He says, " They offered me as an athlete, and I told them I could see myself running the ball". He continued, " I was kind of caught off guard, but I like the fact they had a 2000 yard rusher there last year".
I have joked with Devante telling him he needs his own offers tab on NEI, but he is driven and wants to pursue every possible option. The Conference Player of the Year from last season went for 1300+ yards and 23 Tds, averaging 7.5 yards per carry. He also racked up 90+ tackles and 6 sacks defensively.
"I'm very grateful for the offer and I like what Coach Rich Rodriguez has got going on, my mom used to live down there so I know I like the area".
Downs now has offers from CAL, Washington, Washington State, Arizona State, Oregon State, Utah, Vanderbilt, Boise State, Colorado State, and now the Wildcats. Some schools want him at running back, others at backer, with a school like Arizona saying he could play either.
Regardless of how it ends up Downs will have an abundance of options when all is said and done. We have talked about his academic prowess previously and how well he does in the classroom. Schools such as Notre Dame and Stanford could very well offer the Eddie George type back in the near future.
To succeed at the highest level you have to be focused, and more then anything Devante has his act together. Whether its in the weight room or in the classroom he is constantly working to get better, and we will continue to bring you updates on the big man from Washington.