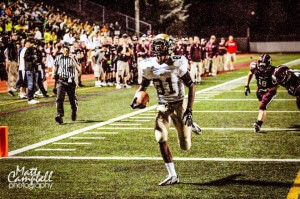 Vegas was great for multiple reasons, with one of the main one's being getting to see our NW athletes against top competition. Redmond Sophomore Jackson Keimig (6-4 200 WR) did his thing having a solid tournament, while showing that he could be the next top receiver in the Washington 2015 class.
Keimig is still young and has the legit size needed to be considered one of the top young wide outs in the region. He's most likely not done growing, and is doing everything right in his off time to get better.
Jackson is a three sport athlete that has a 3.8. accumulative GPA. He was an all league Kingco Wide Receiver as a sophomore, catching 28 passes for 343 yards in 9 games. He is currently training with elite speed coach Colan Sewell, who was also the coach of NEI – North.
Keimig says, "I want to get my forty down in the 4.4's before all said and done, and also earn all state honors this next season". Jackson is a very respectful kid and a fierce competitor and someone that projects at the D1 level with continued progression.
He was one of 10 sophomores on NEI North and got some good exposure on a national stage this past weekend. Redmond has struggled over the last few years going (3-7) last season and (0-9) the year before. That said, Keimig is the real deal and could very well be 6-5 220 by his senior year.
The best way that you can describe Jackson is as a leader. What he does off the field is equally impressive. He is now involved with a group called "Athletes for Kids" that works and mentors disabled children.
Keimig is a two time district champion in the shot put, and also helped lead his team to a 9th grade Kingco basketball title last year. All of this speaks to his versatility and the ridiculous upside that he has. Whatever Jackson does in life he will succeed at it. We are excited to work with him moving forward, and can't say enough good things about what he brings to the table.