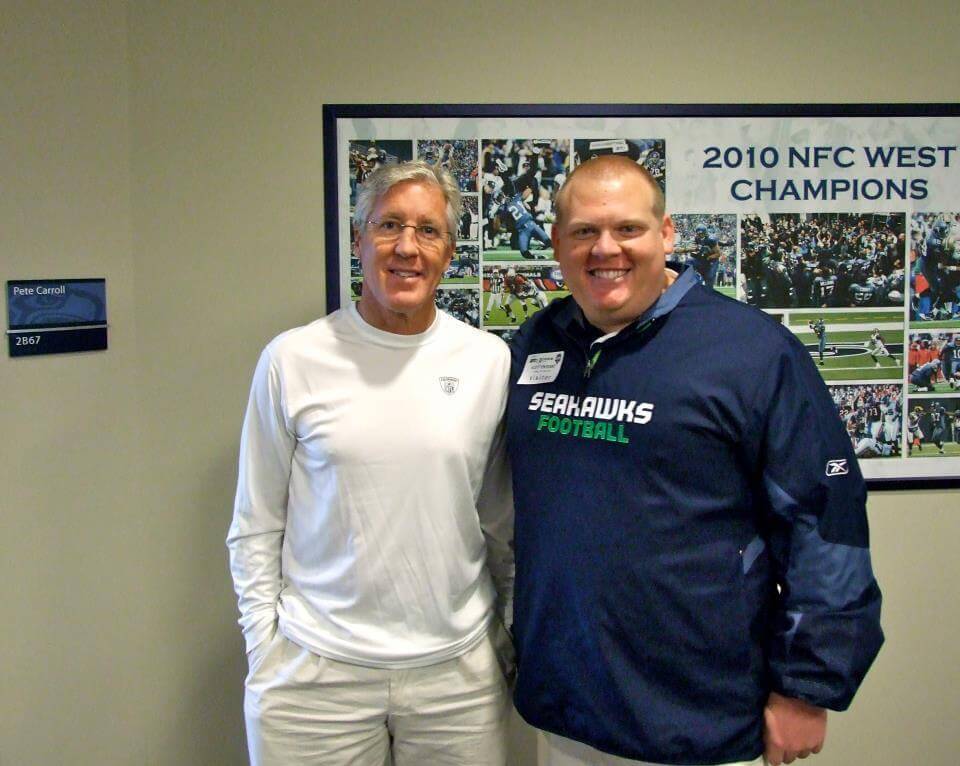 All of us at NEI and Barton Football are VERY excited to announce a big addition to our team in Scott Enyeart. Scott is from the Southern California area and has played a prominent role as a player, coach, and media member.
He has spent time at USC, UNLV and with current Seattle Seahawks Head Coach Pete Carroll and his Win Forever organization. "I'm looking forward to getting up there and seeing what I can do to add to the team", Enyeart said. "I think NEI and Barton Football have a great foundation, and really have a hold on the northwest and all of the top athletes that come through".
Enyeart had D1aa offers out of Millikan High school in Long Beach CA, but chose to go the coaching route. He coached on the O Line at UNLV, but made his way back to Southern California. Scott is a guy that brings a laundry list of attributes to the table, and a passion for helping young athletes.
Enyeart was selected by Coach Carroll as one of 25 ambassador types of "Win Forever", where coaches and athletes alike have one mission.. "Creating an environment that will provide a massively scalable coaching and mentoring system to coach the world".
His 5000+ followers on Twitter only help to bolster an enthusiasm for football that can't be taught. Scott truly loves what he does, and has already changed countless lives doing what means most to him.
Enyeart's biggest asset comes from the fact that he is just a really good dude. He will be moving to the Seattle area and instantly be a huge presence here in the northwest. He has recently been doing a podcast for FieldGulls.Com which is the Seahawks part of SB Nation. Two of the individuals that he works with on the show are part of Seattle' s largest and most well known sports radio station (950 KJR).
"I'm just excited to get up there and get to work, I love what you guys do and all of the people you are able to help in the process," Enyeart said. This addition is a game changer. What Scott brings to the table will help in our expansion, and only benefit the rapidly growing northwest football community.