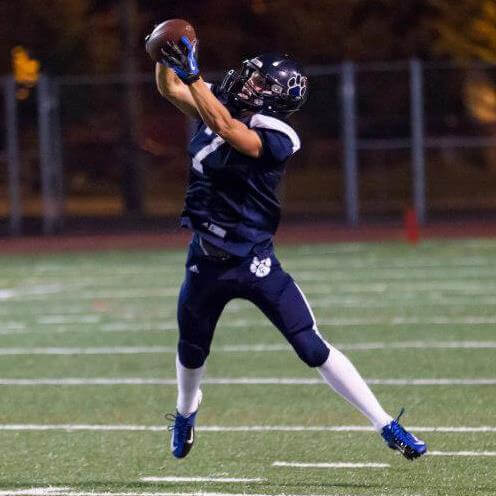 On paper the 2013 version of the Cascade Christian Cougars looks to be a one of the best they have ever had. A name that might ring a bell to most local football fans is that of sophomore TE/LB Mason Tobeck (6-2 195).
Right off the start we will get the family name out of the way. Mason's father Robbie played at Washington State and in the NFL with the Atlanta Falcons and Seattle Seahawks. Robbie was Guard/Center and played in two Super Bowls during his 14 year career.
As just a sophomore, Mason played a key role on a Cougars team that would finish 7-3 with a round of 32 loss to King's High School. Offensively, Tobeck finished the year with 32 catches, 465 yards and 2 Tds. Tobeck also chipped in with 62 tackles on the defensive side of the ball.
He was considered 1st Team All-Nisqually at TE and honorable mention for his work as a LB. He was also awarded as a 2nd Team All-Area by the Tacoma News Tribune. As a matter of fact, he was the only TE listed on the two teams.
Mason is one of a couple Cascade Christian players that have shown up on a regular basis at our Elite Events and done very well. He has shown good technique, above average speed and some of the better hands in the entire state.
Tobeck is a player that probably projects more to the defensive side of the ball, but is a kid we think highly of on both sides in our rankings. As just a sophomore, Tobeck benches 275+, squats 510, cleans 265 and runs a 4.3 in the shuttle. His athleticism is unquestioned, what position he will play in college may be the only question left waiting to be answered.
When my 1A top 10 rankings come out in late August, you can expect Cascade Christian to be somewhere near the top. They will be one of the favorites to win a state championship as they return a lot of quality players including 1st team All-Nisqually performers Jaelin Goldsmith (QB), Hunter Austin (RB/LB), Joe Hilbert (DL), Ryley Ramos (LB) and Nathan Roosendaal (DB).
Head coach Randy Davis will be entering his 10th season and frankly, I can't say enough about the job he and his staff have done. The Cougars are one of the most consistent programs in the state, and are rarely anything less than a state championship contender.