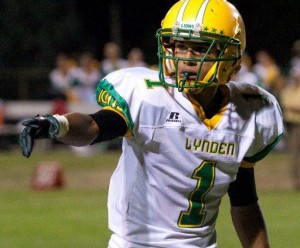 Winning back to back 2A state championships is about to take its toll on the Lynden Lion offense. They graduate 10 of 11 starters with the only player remaining being WR Jalani Phelps (6-3 180 Jr).
Phelps was a bit of a surprise in 2012. Returning All-State WR Zach Vis was expected to be the big play threat this year, but an injury in fall camp delayed the start of his season. Lynden head coach Curt Kramme says, "Jalani's role became more important. Vis missed our first five games, and as it turned out it may have been a blessing in disguise, as Jalani developed into a very dependable target for Josh Kraght".
Kramme continues, "When Zach did return, we were even more difficult for other teams to game plan for as all four of our receivers were proven threats".
On the season Phelps finished with 30 receptions totaling 569 yards with 7 TDs. For his efforts he was awarded with a first team All Whatcom County selection.
Phelps played both ways as he also saw time at the DE/OLB position. He backed up two high quality athletes in Matt Meyer and Caleb Newman, but did see significant time. "He was a nice change up for us, as he was more of a speed rusher than Caleb or Matt," Kramme said.
Football isn't the only field of play that Phelps succeeds in. He is also three year letterman on the basketball team that finished 3rd in state this season after winning the state title the year before. Phelps has also lettered the last two years on the track team, including a 4th place finish at state last year in the 4×400 relay.
The 2012 season at Lynden might go down as one of the best ever for a 2A team. Sure they lost a week one battle with highly ranked King's High School out of Seattle, but were rarely tested on way to a 13-1 season and second straight 2A crown. The most impressive aspect may be the four D1 players the Lions graduate this season. QB Josh Kraght (Portland State), OL/DL Matt Meyer (Washington State), Caleb Newman (Army) and Zach Vis (Montana).
Next season the keys to the Lynden bus could be based around Phelps as the Lions only return three total starters on either side of the ball. With the graduation of Luke Christianson, sophomore RB/LB Trent Postma will see more action than last season, as he looks to add to his close to 300 yards rushing and five TDs of 2012. The only other defensive starter this past season was junior LB Jaremy Martin. He also saw time at RB and should be a key player going both ways.
This coming season should be a down year or the Lions, but if there is one things I have learned about coach Kramme and his staff, it wont be for long. The Lynden staff is one of the best in the northwest and will find a way to win.