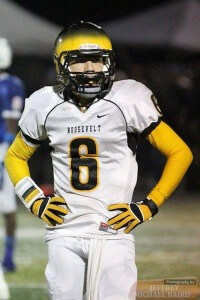 Next years Roosevelt team could very well be the best team in school history, and James Schell-Buchanan will be a big piece to the puzzle if the Roughriders can make a run.
Head Coach Christian Swain has come in and instilled a mind set among his players that has resonated over the last few seasons. While the PIL as a whole is struggling, Roosevelt is thriving. Buchanan has attended almost every event that we have hosted over the last few years and just continued to get better. As a junior he went for 103 total tackles, averaging 9 per game with an impressive 8 tackles for loss.
He will be a three year starter, and two year all league kid on a team that returns basically everyone minus star player Antonio Bella. James went for 4 Tds offensively but specializes on defense. " I want to earn 1st team all league honors on both sides of the ball and go for over 100 tackles and double digit Tds", James said. He continued, " Its important that I can be a guy that the underclassmen can look to for guidance in the classroom and on the field".
At 5-11 185 its not easy to get recruited at the backer spot where he plays, so he has done a good job of proving himself as a strong safety type at our events.
"We will have a phenomenal senior class with Sione, Semise, Damalia Spires, and Daniel Burns leading on both sides of the ball… Our underclassmen will be legit to with Kimane, Billy Nelson, and most of our O line being juniors".
Current sophomore QB Kimane Domena already has offers from BYU and Colorado St, and will help lead the very talented group. James separates himself from his peers with his work ethic and also adds, " Everyone should know how much head coach Swain does for us with recruitment and development". Schell-Buchanan added, "He does so much for us that very few other people even do at most top 6a high schools, and now big things are happening at RHS."
Referencing the elite events he says, "Barton Elite provides the best competition within the region, and allows the top kids to find out where they are on a state wide level".
In summary James Schell-Buchanan will be a big time factor on and off the field next season for the Roughriders. We are backers of James and the Roosevelt program, and will continue to update you on all of their players as the off season continues.