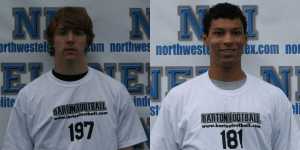 It was great to see a couple of Southern Oregon's top athletes at our Portland Elite Event on Sunday. Austin Holmes (6-4 235 Jr. OL/DL) and Peyton Dole (6-3 220 Jr. LB/S/HBack) were both Honorable mention all league kids a year ago, and both project to a high level of football with continued progression.
Holmes is the brother of all everything athlete Tyrone Holmes who is currently at the University of Montana, and has a legit shot of being a D1AA All American. Austin brings a lot of the same attributes to the table as he is a 4.0 point student, with D1 size and outstanding overall athleticism.
On Sunday he was probably the most impressive defensive lineman in attendance as he says, "We want to get into the playoffs and win, and personally I would like to earn 1st team all league honors on both sides of the ball".
Austin is ranked as one of the state's top 10 lineman and could be climbing the charts quickly. His teammate Dole is in a similar situation as he too has a huge upside with a very athletic frame. Peyton was hurt for part of last year, but will be a three year starter and one of the top players in the Midwestern Conference.
Dole projects primarily on defense, but could see himself in an H Back type role offensively. He is probably the most athletic kid on team with everything included as he says, " From a team standpoint it would be great to get our first home playoff game in some time, and make a playoff run".
Peyton added, "Personally I have a 3.76 accumulative GPA with mostly AP classes, and enough credits to graduate by the end of my Junior year". He continued, "This will allow me to take college classes here at the local community college for most of my senior year". Dole and Holmes are both equally impressive kids on and off the field, as this speaks to the leadership every good team needs if they want to win a title.
Eagle Point has 5 other all league kids returning from last season which will help bolster a strong returning 2014 class. Seth Arena (5-9 165 Jr. RB/DB) was a 2nd team all league DB, and will get the bulk of the carries again from the running back spot.
Rick Pedersen (5-10 200 Jr. OL) was a 2nd team all league OL, and Bryson Baker (6-4 225 Jr. DL) earned honorable mention all league honors on the D Line. Both kids will team with Holmes up front to provide the Eagles with a core nucleus on the line.
Carlos Flores (6-0 195 Jr.) comes back one of the more talented WR's in the Midwestern Conference, and QB Jorge Quintero (5-8 160 Jr.) will be distributing the ball. Both athletes were honorable mention all league kids in 2012.
Eagle Point is a beautiful community, and a team with a lot of potential in 2013. We will be down in Medford within the month on our NEI/Barton Football Camp and Combine tour, and it will be good to see a bunch of the top athletes from EP.
Austin and Peyton are class kids and we only expect good things from the Eagle Point athletes moving forward.