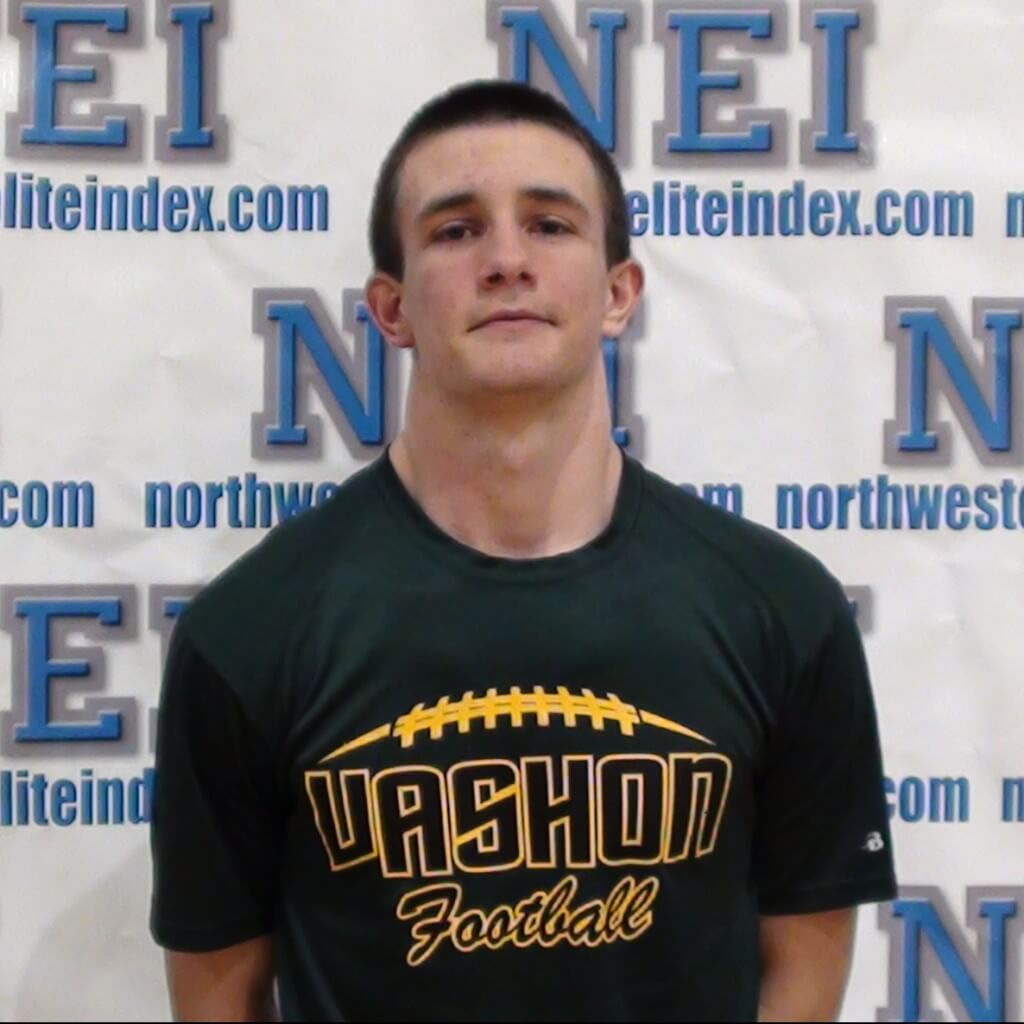 With the winter sports season coming to a close, we have seen an influx of wrestlers and basketball players at the Barton Elite Events the past few weeks. A player that has come out and done very well is 2014 WR Garrett Starr (6-3 170) from Vashon Island.
After helping his Pirate basketball teammates to a 13-7 overall record, in which they missed the playoffs by just one game, Starr has turned his focus back to football. This past season the Pirates football team had a bit of a rough go. They finished the season 2-8 overall and 0-4 in the 1A Nisqually League.
Starr was a definite bright spot as he finished with 49 catches, a new school record, for 797 yards and 8 TDs. For his efforts, Starr was awarded as a 1st Team All-League member.
He was also a two way player for the Pirates and finished with 28 tackles and one INT from his outside linebacker position. Rarely taking a play off, Starr also kicked off and returned kicks when given the opportunity.
As of right now, Starr is #20 in our 2014 receiver rankings. Having seen Starr in person, I am convinced he needs to be moved up. Playing in the 1A classification athletes are often looked down upon do to their level of play. I have profiled a few 1A athletes this offseason that I believe could play at any level, and Starr is now added to that list.
Watching Starr's highlight film you will see just how dominant he is. His dominance on the field has rolled over to our Elite Events where he regularly goes against some of the best big school players in the state. He is a kid that has all the physical tools to be very good, he just needs to refine the technique of the position.
Being a two sport athlete may not be enough for Starr. Speaking to him over the weekend he hinted that he is considering trying his hand at track. Starr believes that focusing on sprints may help him with his acceleration and top end speed.
With a few quality players returning, you can expect Vashon Island to improve next season. They bring back both top passers in Sam Schoenberg (5-11 150, Fr) and Nick Amundsen (5-11 160, Jr), who also happened to be the teams leading rusher with 725 yards and 14 TDs.
The Pirates also return their second leading rusher and top tackler in sophomore RB/DB Nathan Lawson. He finished with 475 yards rushing and 4 TDs, but it was his 88 tackles and 2 INTs that catch the eye. He was a 2nd team All-Nisqually performer last season and is primed for a huge season.
With heavy graduation around the Nisqually league, Vashon Island should challenge for a playoff spot next season.