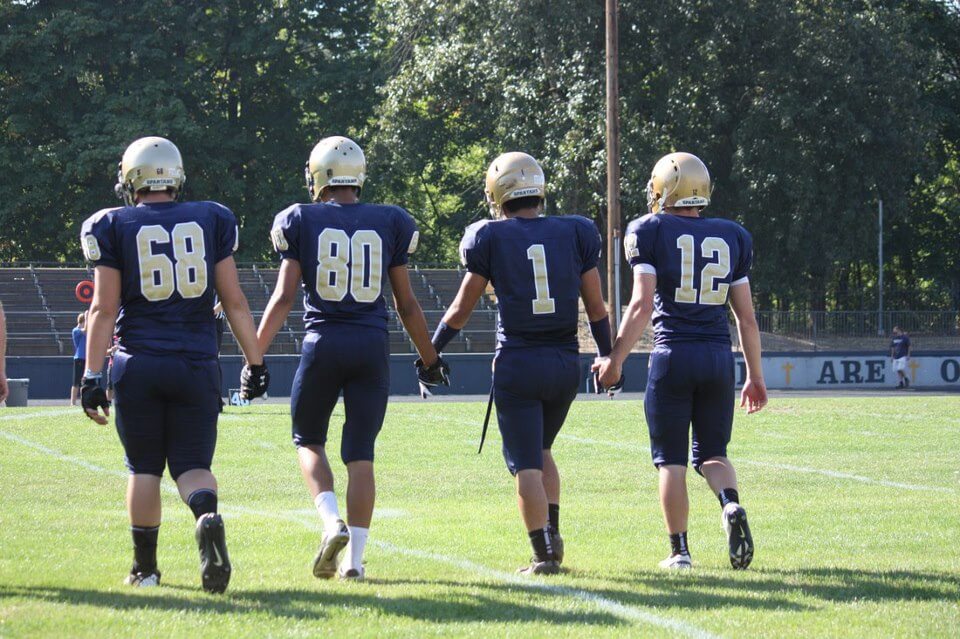 As most people know, Marist has been one of the more dominant teams in the region over the last half decade. Head Coach Frank Geske is one of the most knowledgeable HS coaches in the country, as he could very easily be directing a collegiate program.
This past Sunday three Marist Spartans showed up at our elite event in Portland and did very well. Korey Thompson (6-1 275 Jr. DL/OL), Justin Enseki-Frank (5-11 185 So. Slot/DB), and JJ Banks (6-0 240 Jr. DL) are a trio of athletes that will help the Eugene based private school be one of the better 5A teams once again next season.
Thompson was extremely impressive and proved that he could be a one man wrecking crew inside. He showed overwhelming power against an offensive line that went 6-7, 6-7, 6-6, 6-5, 6-3. His ability to move people at will was one of the highlights of the day.
Korey had 68 total tackles last season, with 11 tackles for loss and 3.5 sacks, putting himself on the map on a statewide level this weekend. JJ is the brother of all everything LB James Banks of Sheldon, who just won a class 6A state title. He will be another key component to next years line, as he went for 45 total tackles in 2012 with 5 tackles for loss, in what ended up being a very successful season.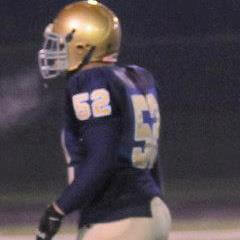 The younger Banks has a great story as he showed up at last years elite events, and found out really quickly what top talent looked like. JJ never stopped working and came back week after week. His progression has been phenomenal, and he now is more then holding his own against some of the state's top talent.
The Spartans will lose three premier skill players in Kamerun Smith, Austin Baird, and Josh Harper who all set records at the school over the course of their career. Enseki-Frank is only a sophomore, but will be one of the go to guys that will have to replace the talented group.
Justin looked very athletic and will team with Andrew Park (5-9 170 Jr. RB) and Austin Owen (6-1 165 Jr. WR). Park went for a team high 954 yards and 16 Tds, while Owen caught 33 passes for 521 yards and 6 Tds to lead all underclassmen wide receivers.
Defensively the Spartans will bring back one of the 5A state player of the favorites for 2013 in Cody King (6-1 220 Jr. LB). King went off last season accounting for 98 total tackles and an incredible 21.5 tackles for loss. He is currently ranked one of our top 10 backers state wide, but is one of two top 10 LB's we haven't seen at elite yet.
In addition to all of the talent that has been mentioned the Spartans have 6 additional all league kids that will play a role coming back next season. Expect big things out of Clark Morton (6-2 220 Jr. 2nd OL), Dante Castille (5-10 290 Jr. HM OL), Liam Henshaw (6-1 165 Jr. HM WR), Ethan Smith (5-11 225 HM DL), Cameron Jack (6-2 195 Jr. HM LB), and Josh White (6-2 215 Jr. DL).
Two additional freshman that could play a prominent role will be Trae Gould (5-9 160 DB/ATH) who started at corner last season, accounting for 17 total tackles (12 solo) and 4 tackles for loss. Trae is the son of highly respected coach Ron Gould, who spent the last 16 seasons at CAL Berkeley coaching the running backs. He is now the new head coach at UC Davis. Brody Cooper is the projected starting QB for the Spartans, although he did not take any snaps last season. He will have a plethora of weapons at his disposal and should do well.
Marist has basically crushed everyone under Geske, going (57-7) over the last 5 seasons since he took over. Even though they graduate some really big names they bring back a host of starters that you know will step up. Springfield has improved a great deal under new head coach Dave Heuberger who was an assistant for Frank at Marist.
In summary the Spartan kids were very impressive this past weekend, and will once again be one of the better teams in the state at the 5A level this next season. We are excited to track their progress moving forward.