Terin Adams Highlights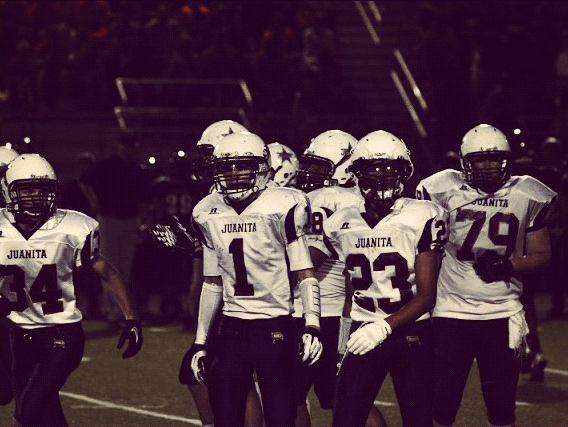 A name you will get to know well over the next couple seasons is Terin Adams (5-11 165 So. DB/ATH) of Juanita. As most know Terin is the son of one of the greatest defensive lineman to ever play professional football in Sam Adams, so it would be accurate to say that genes are on his side.
Juanita is one of the fastest rising teams in the region and Terin is a big reason why. He was recently invited to be a part of NEI-North with the other top athletes from around northwest, and travel with us to Las Vegas for the regional 7 on 7 tournament.
Referencing Vegas Terin said, "It was great to get down there and compete with some of the top talent from across the country, and I definitely look forward to going back next year". Adams was one of the more impressive Washington kids, yet only being a sophomore.
He would be the first to tell you that there is still a lot of work to do, but he's up for the challenge. " team goals for next year include beating Bellevue and winning state". He continued, "Personally I want to shoot for double digit INT's, and not get beat or get the ball caught on me".
Nothing like setting a high standard as he grew up watching the highest level of football on the planet. " My dad is the biggest reason i'm at where I am right now… I remember when I was little he played for the Bills and one game he was playing the Patriots, where the energy and excitement of the game was just crazy". He added, " I loved it so much and from that day on I knew that I wanted to be a football player".
Terin had a good sophomore year, going for 20-30 tackles and 3 Int's. He projects as one of the top 5 DB's in the state of Washington for the 2015 class, and could very well be at the top of the charts when all is said and done.
The Rebels are loaded coming back as they have a laundry list of talent at all positions. One of the toughest things about becoming an elite squad is having the mind set that no one should beat you. Bellevue currently has that, and Juanita will have to dig down deep and come strong and hard at the Wolverines.
Terin is a very respectful and humble kid and someone that we look forward to working with moving forward. His upside is through the roof on and off the field, and we appreciate the support of the Adams family and the Juanita program as a whole.