Highlights:
Caleb Naughton , Kaj Christenson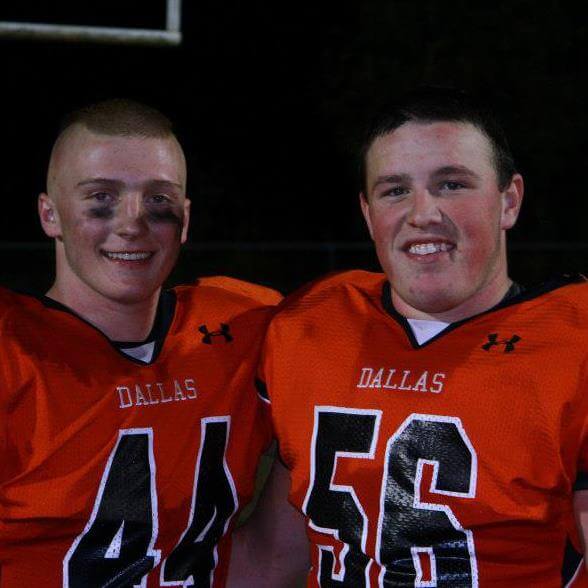 Our elite events our filled with the top athletes and teams from around the region, which includes kids from smaller Pacific Northwest schools as well.
Two kids out of 5A Dallas that have had very successful early off seasons thus far are Caleb Naughton and Kaj Christensen. Both athletes put up some of the most impressive numbers state wide last season, but finished (3-6) in the always tough Mid Willamette Conference.
They very easily could have been 5-4 as they lost by 6 to a tough 4A Central team, and by 4 to South Albany. Naughton's 95 tackles led the team averaging 10.6 per game, with 9 tackles for loss. Offensively he was the teams leading rusher going for 704 yards and 8 Tds.
He will be a three year all league starter before he is done, and the elite events have put things into perspective for him. I admire both athletes who have stepped out of their comfort zone, and gone against the best the state has to offer doing relatively well.
Both are the type of kids you want to build a program around, and Christensen had a monster year himself. Kaj went for 77 tackles and 8 sacks, with an incredible 20 tackles for loss. His ability to get in the backfield and make plays was game changing.
He's not the biggest kid in the world, but he uses his frame well and beats people to the ball with his overall speed and versatility. He might have to make a positional adjustment at the college level, but he is talented enough to play collegiate ball.
Referencing some of the guys they have coming back Caleb says, "Spencer McCarron (83 total tackles, 6 TFL) is a LB with crazy potential and great instincts and will fill out with his frame… Tim Smothers has that WOW factor and makes some incredible plays".
Kaj reiterated some of Caleb's thoughts saying, "Spencer is going to be a beast and Smothers is an overall amazing athlete".
Both kids talked about Jacob Bowman being a legit talent with size, "He's probably the top athlete at our school at 6-5 with some impressive intangibles" (40 yd dash- 4.57, 285 Power Clean)", Caleb said. Christensen added, "Jacob's an amazing person to watch in the weight room, he throws a lot of weight around".
Add in Ryan Peterson (5-8 165 Jr. ATH/S) 3 Int's-tied team lead, with freshman Brett Rowden and you have a legit crew coming back that should challenge for playoff position in the MWC. Naughton says, "Everyday your stock either rises or falls, and I want to ultimately end up being the best football player I can be while moving on to the college level". He continued, "We have a lot of returning starters back, and I think its safe to say that our main goal is to return Dallas Football back to where it needs to be".
In closing Kaj echoed some of the same thoughts, "I think we have a lot of improving to do, which starts now with dedication to lifting and coming together as a team".
We have nothing but good things to say about the kids from Dallas, and we look forward to following their progress as the year continues. The Dragons have a legit shot at a playoff run and these are the kids that will help them get there.