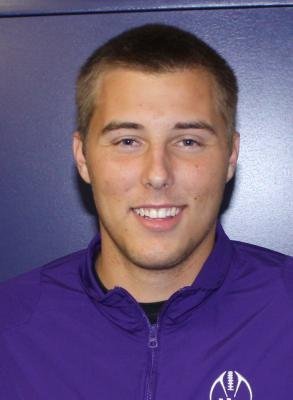 Last weekend at our elite event in Portland I saw an athlete that didn't look like your typical high school kid. He was throwing the football as hard as any QB that I have seen in the last few years.
His point point accuracy and ridiculous velocity made me ask… who are you? Quickly I found out it was former Northern Arizona QB Eric Prater (6-2 205), who had traveled to come back and train with (TB) Taylor Barton.
Cutting to the chase Prater is just a super talented individual. He was a baseball kid for most of high school with a 92 MPH fastball, that decided to play football for the first time his senior year. His talents are put into perspective when you look at how quickly he picked up the game.
He went on to play D1 ball at Northern Arizona University his freshman season, where he was one of three QB's. He didn't take any snaps, which ended up being a blessing as a he still has all four years of eligibility.
Prater is now 21 years old, with a beautiful new wife, and just starting his college career. For the last few years he has been jumping out of planes and spending time under water, while being deployed over seas as part of the US ARMY Airborne Special Forces unit. It all speaks to the kids incredible overall skill set.
Within 5 minutes of meeting Prater you quickly realize he's not your average kid. His positive personality and yes sir, no sir demeanor make you want to see him succeed.
Going to NAU was a learning experience out of Lake Havasu High School in Arizona. He was primarily an straight A student growing up, but when he went to college he says, "I didn't go to class and I was ruled ineligible so it was definitely a learning experience for me".
Eric added, "My family has always been great and very supportive, my sister was the valedictorian of our high school and I have usually done very well with my academics".
Wherever Prater ends up he is going to succeed, and training with the top QB coach in the country only helps make Eric that much more dangerous moving forward. He will be living in the Tacoma area and doing his thing until he catches on with a school.
Playing catch with Woodland QB and overall tough guy Hunter Huddleston at our last event, I asked him how his hands were holding up playing catch with Prater, "It's brutal coach… look". Yes the kid has a cannon.
It will be fun following Eric's career as he is a leader in every sense of the word. He's the type of individual that you build teams around, and we look forward to following his progress in the coming seasons.