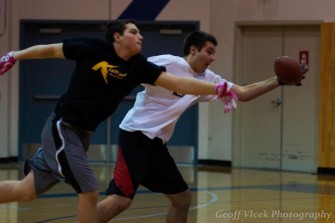 One of the top sophomore TE/DEs in Washington is Erik Rottsolk (6-6 230) of Lakeside School in Seattle.
Potential is the name of the game for Rottsolk who has only played nine games of football in his entire life. Growing up playing basketball, Rottsolk has great body control for a player of his size.
Last season Rottsolk didn't put up great numbers for the Lions, but head coach Casey Selfridge has plans for bigger things next season. "He had to do so much thinking early on last year that he couldn't just 'play'," said Selfridge. "We plan on doing some things offensively this year that will just let him go be an athlete".
With great size and athleticism, Rottsolk has may have as much potential at DE as he does at TE. "I am really excited about Erik. He has a great combination of athleticism and work ethic. He is also one of the leaders in attendance in the weight room" says coach Selfridge. "Defensively I am excited to work with him also, he should be on the verge of dominant as a DE".
Recently Rottsolk began working with Barton Football coaches Greg Prator and Mike Bush at Washington Elite Events, and has shown great improvement. Rottsolk and teammate Mike Padden (6-3 190, Jr WR) are two of the most improved players that have come through the academy.
Rottsolk has a great work ethic that he regularly puts on display. On a weekly basis Rottsolk attends back to back training sessions. From 2-4pm he works with coaches on footwork and technique. Following that he participates in another two hour session working again on footwork and technique, before going one on one against some of the best athletes in the state.
After finishing second place in state as a member of the basketball team, Rottsolk turned to track and field with the idea of getting faster for football. "He did some good thing on the basketball court". Selfridge continues, "Now he is out running track (100m and 200m) and doing shot and disc, also his 1st year there. Track coaches comment regularly on how fluid he is".
At Lakeside they academics to a whole new level. Rottsolk takes all AP courses and still manages about a 3.2 GPA.
If you know me, you know how much I appreciate hard work. Rottsolk is the epitome of hard work and I can't even begin to tell you how great it is working with him on a regular basis.