Lake Stevens Highlights:
Austin Otis , Gavin O'Neil , Tevin Gray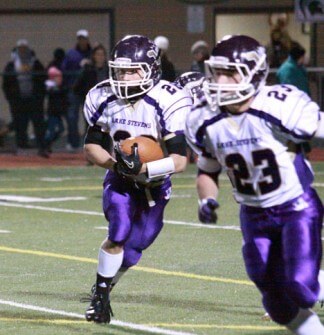 Just one year removed from a state semifinal loss to Skyview, the Vikings should again to be one of the top teams in the Wesco conference.
A big reason is the play of Junior RB Austin Otis (5-10 170). Last season he rushed for a team high 998 yards on way to being a first team All-Wesco 4A North team member. He scored 14 TDs, two behind team leader Connor Coleman.
Otis is a back that should go for well over 1,000 yards this season. With the graduation of WR Conner Coleman (1,272 yards, 15 TD receiving), I expect the Vikings to run the ball more in 2013.
The Vikings don't lose their entire receiving core, but do lose three of their top four. Returning is sophomore Tevin Gray (5-9 180) who last season caught 35 passes for 552 yards. Gray was also voted honorable mention by the Wesco coaches.
Grey is one of the top two-way sophomores in the state. From his DB spot he had 22 tackles and an INT. He is also the teams punter, averaging about 32.5 yards per punt.
When not on the football field, Gray spends a lot of time around the track. So far this season he has participated in the 100m dash, shot put, javelin and 4x100m relays. Gray has some of the top javelin marks in the state, with a season high of 157 feet.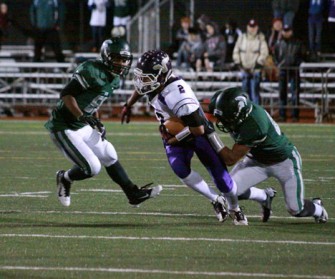 Throwing to Grey, and also the teams 2nd leading rusher, is junior QB Gavin O'Neil. In 2012 he threw for 1,801 yards and 17 TDs on way to being an honorable mention selection. O'Neill also rushed for 413 and 6 TDs, and had 14 tackles on defense.
The Vikings actually return their top four rushers from a team that rushed for 2,462 total yards. Along with Otis and O'Neil, they also bring back junior Tanner Krenz (395 yards, 5 TDs) and freshman Andrew Grimes (258 yards, 2 TDs). Krenz will be a key player on both sides of ball next season as he also had 43 tackles.
Defensively is where the Vikings take their biggest hit, but they also two players I am looking forward to watching in juniors Cj Lat (6-1 195, LB) and Evan Miksch (6-3 240, DL). Both players are very much under the radar and kids that should climb our rankings board.
Graduating one of the state leaders in tackles Andrew Elgaen (127 tackles) is a huge loss, but Lat (111 tackles) showed last season to be very capable of picking up the slack. Lat also added 3.5 sacks and an INT to help him become first team All-Wesco and second team All-Area selections.
Helping Lat offset the loss will be junior Taylor Shea (6-0 185, LB). Last season Shea had 68 total tackles and should improve that number in 2013.
Evan Miksch will be the anchor of both the offensive and defensive lines for the Vikings in 2013. He was voted first team All-Wesco on defense after recording 80 tackles and 8.5 sacks. Miksch was also a second team member for his work on the offensive line.
Tom Tri is going on his 9th year as Vikings head coach and is one of the best in the state. Tri and his staff do a great job not only on the field, but off it in preparing his team for football and life. He was recently selected to coach a team of West All-Stars in this years game held in June at Moses Lake High School.