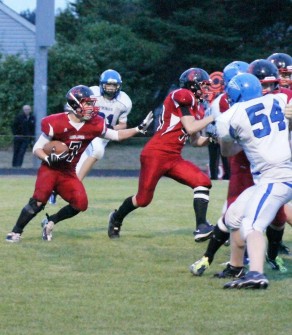 A player that is continues to impress on a weekly basis is junior Jake Tumblin (5-10 170) of Coupeville, a small town on Whidbey Island.
Last season Tumblin lead the Wolves in rushing with 787 yards and five touchdowns. He also led the team in receiving with 350 yards and four TDs. Rarely leaving the field, Tumblin also had 400+ yards and one TD as a kick returner.
Tumblin projects more to the defensive side of the ball at the next level and in 2013 he finished with 38 solo tackles from his free safety spot.
Had Coupeville been allowed to participate in post season awards, shame on you Cascade Conference, Tumblin surely would've been an All-League member.
From the first time I met Coupeville coach Tony Maggio he raved about Tumblin. "Jake is an incredible athlete, he can play so many different spots on the field, all at a very high level," Maggio said to NEI. ".Jake is one of those kids that never leaves the field, he is on all teams at all times. He is a viscous attacker on defense, and loves contact".
In January Tumblin began attending Barton Football Academy Elite Events and was as dedicated as any. He became a mainstay and has really shown his ability against some of the best athletes in the State of Washington.
Football is just the beginning of Tumblin's athletic ability. In the spring he takes his talents onto the baseball diamond where he is one of the better catchers in the entire state. In 2010, Tumblin helped lead Central Whidbey Little League team to a Junior League State championship.
Returning players like Tumblin and potential All-State lineman Nick Streubel, the 2013 Wolves should be one of the more improved teams in the state. They return virtually their entire offense that combined to rush for over 2,100 yards as a team. The Wolves are also set to bring back a total of 28 TDs.
Defensively Coupeville will return three of their top four tacklers, losing only Caleb Valko to graduation.
I can't say enough good things about Jake and the entire crew from Coupeville. Coach Maggio is a class act and it has clearly rubbed of on his players.