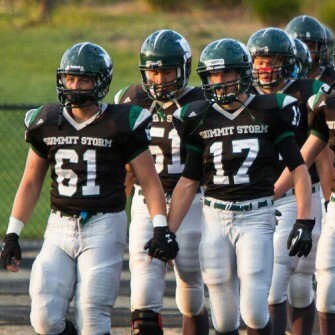 Don't look now, but the Summit Storm are one of the fastest rising programs in the state of Oregon at the 5A level. They bring back 12 varsity starters, and three or four other kids who played significant minutes last season. They also have two very talented younger classes who only lost one game each last year (Freshman/8th).
Add in a coaching staff that has doubled in size with NFL legend Drew Bledsoe calling the plays, and you have excitement within the Summit community that has never been there before.
Head coach Joe Padilla has done a great job getting things turned around and is optimistic, "We see the future being very bright for our program, our weight room numbers are the best they have ever been and we have leaders starting to emerge".
Summit went (2-7) in 2012 with just three returning starters, and was one of the youngest teams in the entire region. They bring back talent at the skill positions and on the line. The offensive front brings back all five starters, but one will be moving to fullback.
Tyler Mullen (6-1 185 WR/SS), Blake Garrison (6-0 240 C/DL), and Josh Cherry (6-0 185 SS/Slot) all return after earning 2nd team all league honors last season. Mullen is a three sport kid and may be the best overall athlete in the program. He was a 2nd team all league backer last year as Coach Padilla says, "He has a combination of great work ethic and character, and is a kid that could help us get to another level". Coach added, "He made big plays for us last year on both sides of the ball and we expect to get the ball in his hands a lot more this season".
Cherry was an all league WR and started at Safety. Coach says, "Josh was a kid that we moved around a lot as he was an excellent receiver, and could definitely see some time this year in the backfield". He continued, "Garrison is the leader of our line and leader of our team..He has added a lot of strength, speed and agility since last season".
Two other big time athletes that the Storm return are Luke Ross (6-2 165 FS/WR) and Marc Hasenoehrl 6-0 180 FB/LB). Coach says, "Luke is extremely hard working and has proven to be a leader this off season, he is one of our most athletic kids". He continued, "Hasenoehrl led the team in tackles last year and is adding size as we speak".
In summary Summit looks like they are getting things back on track and building from within. Bledsoe provides a spark with his dedication to the community and professional experience. Coach Padilla says, "In some ways next season can't come fast enough… We still have a ways to go but we want to be competitive with the guys across town, and with what they have established that will take a lot of hard work".
We look forward to following Summit and all that they do from here on out. It will be good getting out to Bend on April 14th, and seeing the Storm athletes and the talent they have returning.