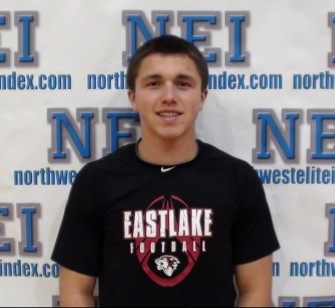 Almost as much as any kid in the Pacific Northwest Jeffrey Feinglas (5-11 175 So. WR/S) of Eastlake has his act together. Feinglas was one of the top two way threats in the northwest last season, while only being a sophomore.
Feinglas ranks as one of the top 5 skill position players in the entire state of Washington for the class of 2015. He earned 2nd team all league honors at safety, leading the team in tackles (63.5), and Int's (3) with (4) pass break ups. His combination of smarts and athletic ability put him an elite category of athlete. He says, " My goal is to attend and play football for an Ivy League School and eventually work in the capital markets". Not your typical answer from a high school sophomore.
As talented as he is on the field his academics remain his main focus. He is a 4.0 point student and says, "I take pride in my academics which is a top priority for me, I spend as much time in the class room as I do on the field".
Making things even more impressive is that he is a three sport athlete, also playing varsity basketball and baseball. Doing this in the state's toughest conference, while possessing average size makes all of his accolades that much more incredible. He says, "Last year was tough for us as we lost 21 starters from the previous season". He continued, "Our goals for 2013 are high, returning 17 starters with the addition of head coach Don Bartell and Coach Snell as the offensive coordinator".
The Wolves will return a host of talented kids, with featured RB/Slot and high profile D1 prospect Drew Lewis leading the way. QB/CB Richard "Blue" Thomas and WR Gage Casal return after 2nd team all league seasons a year ago.
Week 1 Eastlake lost to Lakeridge down in Oregon, but Feinglas stuck out like a sore thumb. Doing the broadcast of the game on Comcast I paid close attention to the sophomore standout. He was one of the most impressive kids I saw all year long on either side of the ball.
We wish Jeffrey and his entire Eastlake group continued success moving into 2013. Its one of the best football communities in the state of Washington and things are only getting better.