Highlight Videos:
Carter McKay , Mitchell Hersey , Tanner Amell , Calvin McLain , Odessa Mendoza , Jacob Budnick , Ryan Price , Darius Riddley , Jayson Williams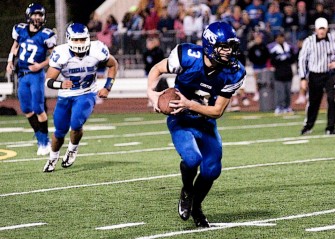 Returning plenty of talent, the 2013 version of the Curtis Vikings should be back in the mix for an SPSL South title. A big reason is the play of junior WR/DB Carter McKay (6-0 175).
After transferring to Curtis before last season, McKay was a first team All-SPSL member at WR and honorable mention as a DB. He finished with 32 catches for 596 yards and six TDs. He also reeled in four interceptions from his FS spot.
His sophomore season at Gig Harbor he was voted second team All-Narrows by the leagues coaches. Following the season, his dad Darren McKay was let go after 11 straight playoff seasons. Carter decided to transfer to Curtis, while his father would end up making his way to Todd Beamer High School in Federal Way.
Football is in the McKay blood. Speaking to NEI Carter said, "My cousin Garrett (NEI's #4 ranked 2014 WR) also transferred, to Bellarmine Prep, where he had an amazing season". He continued, "Both my uncle and my grandfather have been involved in football/coaching all their lives. They now coach with my father at Beamer, just as they did at Gig Harbor".
Under head coach Clay Angle, the Vikings are working on five straight season with a playoff berth, including a 2010 semifinal appearance. "I strongly believe that if this team is able to come together, we are talented enough to make some noise in the playoffs," McKay said. "We have almost all of our defense back from last season and we plan on being able to rely on that, and our skill players on offense".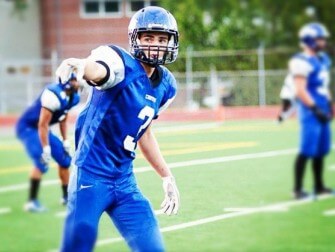 Relying on that defense may not be such a bad idea. The Vikings return two of the best defensive lineman in the entire state in Odessa Mendoza (6-0 300 Jr) and Darius Riddley (6-0 255 Jr). Mendoza is the reigning SPSL South Defensive Lineman of the Year, and both were first team All-League members.
"Odessa is a pure freak of nature, a man his size should not be able to move as fast and be as athletic as he is," says McKay. "Darius has a nonstop motor, he is also very strong in the weight room and he can really get after the passer".
The Vikings also return one of the top linebackers in Washington with first team All-SPSL South member Calvin McLain (6-1 215 Jr). "Calvin is the perfect middle line backer, he is the leader on defense and is very football smart". McKay continues, "He is always putting not only himself, but his teammates in the right position".
Two up and coming sophomores for the Vikings are Jacob Budnick (5-11 230 OL/DL) and Jayson Williams (5-11 180 WR/DB). Jacob is the younger brother of senior Zach Budnick, who is headed to Central Washington, and is already one of the strongest players on the team. Jayson is a three sport athlete at Curtis, and the type of player that can score on any play.
Curtis also return four players that were honorable mention last season. Tanner Amell (6-2 240 OL/DL), Mitchell Hersey (5-9 160 RB/LB), Ryan Price (6-0 200 RB/LB) and Scott Wismer (6-2 175 QB) all should be ready to become first or second team members in 2013.