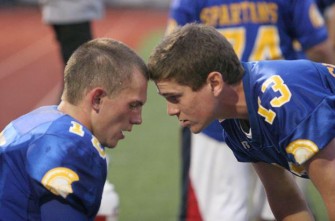 We aren't sure what position he will be playing yet, but that is part of what makes him so talented. Casey Brink (6-2 190 So. QB/ATH/S) could very easily be the teams starting QB, but he's also an outstanding Wide Receiver/Running Back.
Brink will enter his junior season with some lofty goals, as Bainbridge is not a traditional football power. He has been training at the academy since his freshman season and continues to improve as an overall athlete.
He says, "First and foremost we want to beat O'Dea and go at least .500 in Metro League play". He continued, "It sounds like an easy goal, but its hard when you look at the teams we play" (O'Dea, Eastside Catholic, Seattle Prep, Bishop Blanchet).
Brink started at safety as a sophomore and has showed off his overall athleticism from an early age. He will have to lead the Spartans who went 1-3 at home and 4-6 overall last season. Casey says, "Personally I would like to be named the starting QB for the varsity squad, and if I get named the starter earn 1st team all conference honors". He added, "I wouldn't consider myself a dual threat option QB, but I would consider myself a pocket passer with the ability to use my legs".
One thing that will never be in question is Brink's work ethic. He's typically the first guy to the field and the last one to leave. He understands the importance of hard work and what it takes to make it to the next level. "22 Tds and 2,100 yards would both be single season school records, and I want them both… When I get my shot I plan on making it count".
Brink is going to continue working on his fundamentals, along with his accuracy on long balls and top end speed. His overall potential is through the roof as he has legit size and the athleticism. We will look forward to hearing from Casey in the near future as he is one of the top players in the state of Washington for the 2015 class.