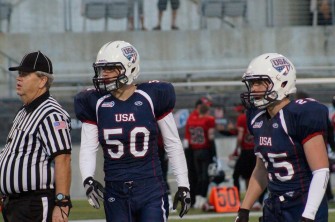 Every once in awhile the Pacific Northwest produces a recruit that ranks at the top of the charts nationally. This would be the case with 6-3 215 Freshman LB Joel Dublanko of Abderdeen, WA.
Just recently Dublanko received a prestigious honor from SigningDay.Com, being ranked the #2 linebacker and #23 overall recruit in the United States of America for the 2016 class. To put his skills into perspective, he received his first offer after his 8th grade season from the University of Montana. As reported earlier he was part of Team USA's 16 and under elite squad, featuring some of the nation's top talent where he excelled.
Its extremely rare to see a kid with the physical attributes that Dublanko possesses. Time and time again the standout freshman dominated at our elite events with the region's top talent. Referencing the ranking by Signing Day he says, "Its a real honor to be on that list with so many talented players from across the U.S." . He continued, "Being ranked so high motivates me to work even harder and to get stronger because I want to stay on the national radar".
You will not find a more grounded kid, that just says and does all the right things. He has an amazing family support system that has been huge for him growing up.
These last few days Joel visited Boise State and Oregon State where he was impressed with both programs. "I loved my visit to Boise State as they had a great campus and overall culture within the football program". He added, "I visited Oregon State today and came away totally impressed with there program and facilities, the practice was high energy and it was definitely clear they are a top level program".
Dublanko will be visiting some different SEC schools over the spring/summer that are said to be close to offering, and its just a matter of time before UW and every other Pac 12 program pulls the trigger on the high profile recruit.
Joel has a chance to be one of the most special players to ever come out of the northwest. We are excited for him moving forward and think he's an even better kid then linebacker.