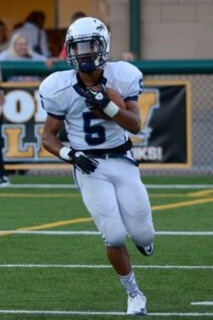 The 2015 RB class in Washington is starting to look better by the day. One of the top players on that list is Malik Braxton (5-10 170) from Meadowdale HS in Lynnwood.
I first saw Braxton in a week two win over Inglemoor and was instantly impressed with his vision and speed. He would finish 2012 with 53 carries for 285 yards and seven TDs as the third RB on the roster behind seniors Morgan Masanda and Giavani Shepard. Braxton also spent some time at QB for the Mavericks and threw two TDs in a game vs Oak Harbor.
Malik is a three sport athlete, also participating in basketball and track. He currently runs the 100m dash and does the triple jump. He has posted a best of 11.4 in the 100, and jump of 39'9″ in the triple.
Braxton is a kid that has his head on straight. He is a good student (3.5 GPA), helps coach little league baseball and has big plans in life. "My long term goal is to be a Husky (UW). I want to Become a Dentist and to coach High School Football," Braxton told NEI. "All my family has been involved in sports. My dad was a multi sport athlete at Lynnwood high school before playing baseball in Mexico".
Last season the Mavericks finished 7-3. They were 6-0 early and as high as #3 in our 3A rankings, before faltering late. They would eventually lose to state runner-up Eastside Catholic in the round of 32.
They lose a lot of seniors, but that hasn't lowered team goals for the upcoming season. "My goal is to take my team into the Washington state 3A playoffs and go deep to see what we can do against Bellevue". He continues, "In order to do that my personal goals for the season is to get past 1000 yards. I feel if I can help my team out by this everyone else around can also step up".
Meadowdale returns a few players I think could help keep the Mavericks towards the top of Wesco. DL Jojo Alkhedairy (6-1 275 Jr) is one of the more dominant lineman in WA, and a kid that is quickly rising up the charts. DB Josiah Evans (6-0 180 Jr) will again be one of the top DBs in the conference.
The Mavericks return plenty of talent, but as of right now have yet to hire a coach to fill the shoes of Mark Stewart who left for Garfield.
Getting to know and watch Malik over the next few seasons is something I very much look forward to doing. As great of an athlete as he is on the field, he is twice the person off it.