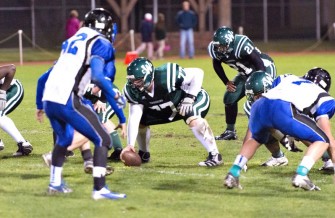 Every now and then I come across film that is so dominant I have to take multiple looks to make sure I am seeing right. That was the case when I found OL/DL Robert Luke (6-4 320 Jr) from Charles Wright Academy, just outside Tacoma.
Last season Luke was first team All-Nisqually on both sides of the ball. He was also named first team All-Area by the Tacoma News Tribune.
"Robert Luke is a complete force in the trenches. He has the size, strength, quickness and mental aptitude for the game," CWA head coach Mike Finch said. "His desire to destroy his opponent that allow him to dominant at the high school level".
Finch continues, "Despite his size, Robert has quick feet and will impress college coaches with his ability to move laterally".
I really couldn't agree more. Luke is one of the best Centers in Washington State, regardless of classification. Watching his film you will see that he has a knack for knocking his opponent down. He shows great agility on defense and is regularly in the backfield. His explosiveness also allowed Luke to block five kicks this past season.
With a 3.65 GPA, Luke also excels in the classroom. He plans on taking a trip to both Harvard and Yale this offseason, and could legitimately end up playing in the Ivy League. Speaking to NEI, Luke said, "I take a lot of pride in my grades, I pay attention in class and don't mess around".
Luke is a kid I am really excited to see in 2013. I believe he is one of the most underrated lineman in the entire state. He spent his sophomore season at Gig Harbor before transferring to CWA. Senior TE/DL Beau Iverson is moving on to play at Yale next season and should lead as an example that kids at this small school deserve more looks.
The Tarriers finished the 2012 regular season undefeated, winning the 1A Nisqually Championship. The season ended earlier than anyone would've liked as they lost to eventual champion Montesano in the opening round. They graduate a lot of quality players, but should be in the mix again for a league championship.