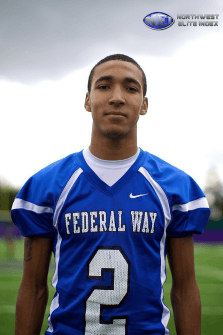 Exciting news for one of Washington's top ranked junior DB's, Keenan Curran (6-3 195 Jr. ATH), who received his first offer from Idaho on Tuesday. Curran is ranked as one of our top three defensive backs for the 2014 class, and is also a threat on the offensive side of the ball.
Referencing the Idaho offer Keenan says, "The offer was in a way a sigh of relief, because it reassured me that all of my hard work was being recognized". He continued, "I also don't want to get complacent as its important others schools take notice and see the potential that I have".
The talented athlete from Federal Way is an NEI favorite and a kid that we are big backers of. Keenan projects as a safety but could also be that very athletic, elite level corner at 6-3. He was part of our NEI-North group, that traveled with us to Las Vegas to compete on a national level just over a month ago.
Curran is an outstanding student (3.3) and a kid that schools can feel comfortable building around. He is that general type, who can also lead as a quarterback. The Eagles were undefeated before losing to a legit Camas squad in the state quarterfinals in 2012. Federal Way loses a ton of talent from last years group, and Keenan will need to be the guy who keeps his team in check this season.
In closing he says, "The Idaho offer makes me want to work twice as hard, just because of the excitement and satisfying feeling that comes from receiving an offer to a great school".
We commend the Vandals on pulling the trigger on such a talented kid. Keenan is a leader in every sense of the word and someone that we can't say enough good things about.