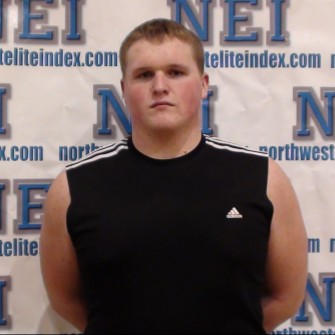 It has been a busy offseason for Enumclaw (WA) High School lineman Chandler Streuli. Streuli, who is currently NEI's No. 9 ranked offensive lineman in the state of Washington, has been a regular attendee at Elite Events throughout the winter and spring working to build on the solid junior season he had last fall.
Not only has Chandler been prepping hard for his senior campaign with the Hornets, but he has seen his recruitment to play at the collegiate level start to pick up as well.
The 6-foot-3, 290-pound Streuli recently did double-header visits to the University of Idaho and Washington State, spending time getting to know both coaching staffs and getting acquainted with what each of the programs has to offer.
Idaho was first of the two visits, and it certainly left an impression on Streuli. He was able to get a tour of the facilities, meet the staff – including OL coach Jon Carvin, and sit in on the offensive line's position meeting before their scrimmage.
Chandler said the offensive line meeting was uniquely energetic. "It was very loud and intense, it got me jacked up and I wasn't even doing anything."
After the meeting Streuli watched part of the Vandals' scrimmage before heading over to Pullman for his visit at Wazzu.
At WSU, Streuli was able to meet OL coach Clay McGuire and watch the Cougars' practice.
"It was fun, I also got to meet [2013 signee] Cody O'Connell," he said.
Both schools invited Chandler back for their summer camps, and he still have several other programs he is looking at visiting and camping at. He plans to attend the Barton Football/NEI combines and June 30th Showcase Event this spring, as well.
Chandler is hoping to help lead Enumclaw to the playoffs to conclude his high school career. On top of all the work he has been putting in to help his team and himself, he maintains a 3.9 GPA.