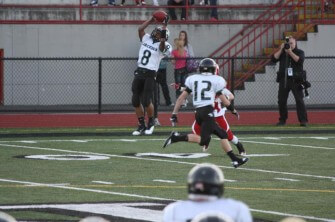 One of the top returning players in the entire Wesco conference next season is junior Trey Robinson (5-8 170, ATH) of Jackson.
For the second straight season Robinson was a first team All-Wesco WR after catching 65 passes for over 1,225 yards and 15 TDs. He was also named as a first team All-Area member by the Everett Herald. Top top everything off, Robinson earned 2nd team All-State by the Associated Press.
As of right now no school has offered, but some may not be far away. "I had great conversations with Nevada Reno, and I will be meeting them in June at the Barton Showcase Event," Robinson said to NEI. "I've also had conversations with Eastern Washington, and gotten letters from Arizona State, Colorado State and Oregon State".
Robinson plays in almost every situation for the Timberwolves, but feels his best position is on offense. "I play defensive back, kick return, punt return, but where I'm really good is playing the slot receiver". He continues, "that's where I make my money, and hit the jackpot… that's why I am called the Slot Machine".
Watching Robinson's video you will see a player that makes up for a lack of prototypical with speed and agility. His vision on the field is second to none. Robinson is a player with the ability to strike on any play, no matter the situation.
Athletics is something that run in the family. Growing up in Louisiana, Trey's father ran track, his uncles were football players, and his grandfather was a member of both teams at Grambling.
Keeping up the family tradition, Trey is now out running track. He is participating in the 100m, 4×100 relay and the high jump. He currently has the best high jump in Wesco at six feet. "I running track to get faster, my goal is to be able to run a 4.3 in the 40," he said.
With an early exit last season the expectations are back for the Timberwolves. They finished with an overall record of 9-2 and won the Wesco 4A championship game over Monroe. "My goals for this season is to get my team past the first round of the playoffs, and go farther than any Jackson High football team has ever been," Robinson said. "To achieve that we need every teammate to work on themselves now, me doing track is simply to get faster for football".
Head coach Joel Vincent and his crew have done a great job at Jackson. They have been able to win on and off the field, and look to be capable of contending again this season. I look forward to watching Trey at the Barton Football events and in what could be a player of the year type season.