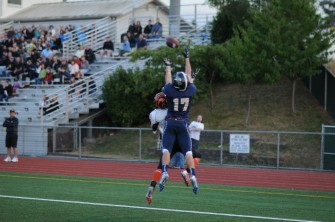 A team and program on the rise within the state of Washington is Cedar Park Christian HS out of Bothell. The 1A private school has been led by head coach Todd Parmenter, who has done a phenomenal job of getting his players to buy in to the team concept.
A young and very talented group returns next season, where you will see 1st team all league returners in Andrew Rickman (5-8 165 Jr. RB /DB) and Connor Johnson (6-2 205 Jr. WR/LB) be two of the better players in the state of Washington at the 1a level. Rickman is a dual threat kid, grabbing 1st team all league honors at free safety (69 tackles), while racking up 2nd team honors with 810 yards (640 rushing, 170 receiving) and 10 total Tds.
Johnson is a beast at 6-2 and did well at our elite events. He has unlimited potential with his size, making 56 tackles from his OLB spot while accumulating 415 yards and 4 Tds himself offensively. He was also a 1st team all league kick returner.
Second team all league CB Ben Anderson (5-11 160 Jr.) will be back to help shore up the defense after making 27 tackles and 1 Int last season. Brandon Snyder (6-2 170 So.) and Vincent Hummel (5-11 195 So.) will join Johnson at the other backer positions and should do well. Coach Parmenter says, "We see Brandon having a big year on both sides of the ball as an OLB and WR, and Vincent is the hardest hitter on the team and can be dominant".
Noah Rankin (6-4 210 Jr. OL/DE) will be a force on the line, and will be joined by current freshman standout Josh Krause (6-2 235 DE/T) who started this past season.
Zach Belindean (6-2 205 So. C) will be the captain of the line, and Alex Thomas (6-3 195 So. OL/LB) has come out and looked really good at our events. Parmenter says, "Belindean provides great leadership and enthusiasm, and Thomas is a quick athletic kid with a great motor". Two other kids that could have big years are Shane Rhodes (5-9 145 So. C/RB) and Caleb Freed (6-1 185 So. LB).
Isaiah Ammon (5-9 165 So. QB) led the 2012 JV team to a perfect 7-0 season, and is an athlete that the team can depend on. Soon to be freshman QB Rowan Parmenter (6-1 160) could be a special player when all is said and done, as he has shown flashes of greatness from a very young age.
Both he and Isaiah have been training with Taylor Barton and taken their game to another level. Parmenter is one of the better young quarterbacks in the entire region for his class, and we think the sky is the limit for him moving forward. He was recently given a 15 and Under U.S. National team selection.
Coach Todd Parmenter is one of the more devoted coaches in the Pacific Northwest, as his guys have benefited both on and off the field from his leadership. The Eagles will be looking to improve on last years (5-4 season), as we foresee them being a team that could make a run in 2013.
We will continue to bring you updates on all of the athletes at CPC and can't say enough about the community as a whole.