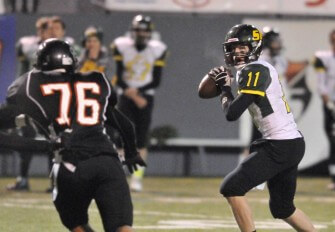 Although it is the middle of baseball season for Shadle Park (Spokane, WA) HS multi-sport standout Brett Rypien, his preparation for the upcoming football season is already in full swing.
The 6-foot-2, 175-pound sophomore has already cemented himself among Washington's elite. He's currently atop NEI's list of QB rankings for the class of 2015, and also holds an early offer from the Washington State Cougars, where his uncle, Mark, played collegiately.
Don't be deceived, however. Despite the relation to the Super Bowl-winning QB, Brett is well on his way to establishing his own name. In 2012 he helped lead Shadle Park to the state playoffs while completing 63% of his passes for 3,574 yards, throwing 29 TD's against just 10 INT's.
It's that success on the field that saw him secure invites to Junior Days at both WSU and the University of Washington. This spring, Rypien also turned in a strong performance at the Under Armour/ Rivals camp series in Phoenix. In addition, Brett made it over from Spokane to one of our Elite Events where he put on another solid showing. "It was really fun to see myself against some of the top guys from Washington," Rypien said.
If that wasn't enough, he's also been putting in work with his fellow Highlanders to prepare for the season ahead.
"I have been throwing with some of my receivers – Skyler Kelley, Tanner Pauly, Nick Kiourkas, and Alvin Welch – 2 times a week. We have been working really hard in the weight room as well and expect big things this season."
Brett also told NEI that SPHS has made the switch from green to yellow helmets for 2013, an ode to the last Shadle Park team to win a GSL championship – a change the team was very excited about.
Rypien's offseason work is far from over. He plans to attend camp at Boise State and possibly Stanford, if his schedule allows for it. Additionally, he is slated to attend the Barton Football/NEI combine in Spokane on June 2, and the Showcase Event on June 30 in Seattle.
On top of all that, he still finds time to maintain a 4.0 GPA – needless to say, the future is bright on and off the field for Brett Rypien.