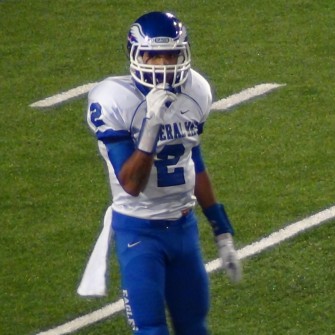 Federal Way (Wash.) High School DB/QB Keenan Curran has had quite the week. On Monday, Curran picked up his first D1 FBS offer from the University of Idaho, and today, he landed his second offer from San Jose State University.
"Coach [Jimmie] Dougherty has been handling most of my recruitment, but today I had a good long talk on the phone with [head] Coach [Ron] Caragher, and at the end he said they'd like to offer me," Curran told NEI.
The 6-foot-2, 185-pound Curran is Washington's No. 2 ranked DB but could also play offense at the next level.
"They told me they like me as a DB, but said they see the leadership qualities in me to play on either side of the ball," Curran said.
Curran said he had been told that once he got his first offer others wouldn't be far behind, but was surprised at how quickly his second one came.
"It's crazy how when you get one offer, other schools start to notice you," he says. "I am just thankful to both coaching staffs for believing in me enough to offer me."
This isn't the first time SJSU has looked to the Pacific Northwest, and Federal Way HS in particular, for prospects – class of 2013 WR Mike Tate, a former teammate of Curran's, signed with the Spartans this past February.
Curran said he plans to take an unofficial visit to SJSU this summer to check out the school and the area, as well at meet the rest of the staff and team.