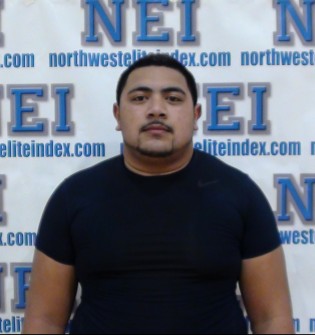 For close to three months I tried everything to find Dee Angelow Viena of West Seattle High School. I contacted the school, scoured the internet and even wrote various media outlets that cover the schools football team. I was stuck wondering if I would ever find him.
Then out of the blue I got a message on Facebook. "You don't know me, but my name is Dee Angelow Viena". Finally, my search was complete!
Soon after that conversation, Dee Angelow began attending our Elite Events. From the start he showed a rare combination of speed and power that isn't typical of a player his size.
The 6-foot, 280-pound junior went toe-to-toe with anything and everything we threw at him, and rarely lost a battle. At one point it was as though he and Juanita sophomore Thomas Toki were playing a game of cat and mouse with the elite offensive linemen.
Viena has been terrorizing the Metro League on both sides of the ball for the better part of the last three season. He was honorable mention after a stellar freshman season for the Wildcats. The past two years he was voted first team All-Metro at guard. His sophomore season he was second team for his work along the DL, before earning first team this past season.
Hard work and determination is something Viena takes seriously. "I like to help out with my church. Every other Saturday we clean the community," Viena says. "I've been trying to find someone that can put me out there. I just need that opportunity".
Viena is a multi-sport athlete at West Seattle, also throwing the shot and discus for the track team. In the end though, his true passion is football. "My personal goal for next season is to be ready mentally, physically and academically for every game". He continues, "Next year we (West Seattle) need to be one heart, one soul and one mind. If we all play as one, it's going to be hard to be stopped".
Watching Dee Angelow's video you will see a player that has all the tools to play at the next level. When given a chance to play, Viena will not disappoint. He is a very respectful person and I look forward to seeing Dee Angelow at other offseason events on way to what should be a great senior season for this special athlete.