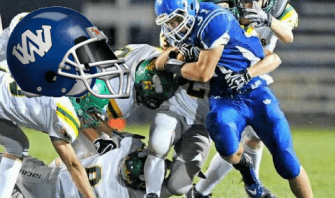 As we travel the northwest we see kids from all over the region that bring different things to the table. Stuart Gillin (6-1 215 Jr. LB/RB) is an athlete originally from Texas, that is giving an improving Walla Walla team hope moving forward.
He is one of the fastest backers in the entire state, and shows outstanding anticipation on the defensive side of the ball. Gillin is a quality kid first and foremost with his dad being a local Presbyterian pastor. "I am a very active member of the community, helping spearhead the effort to help high school athletes get involved in a massive canned food drive… I also participate at the local Christian aid center".
Stuart says, "I want to do whatever it takes to help my team be successful… If that means putting my hand on the ground and playing DE, or moving back to safety, then that's what I will do".
He continued, "I would like to make 1st team all league and break the all time record for tackles in a season (151), and in a game (22)".
Gillin recently ran a (11.1) 100 meter dash and (22.3) 200 meters, making speed one of his biggest attributes. The Blue Devils lose all-everything back Jonah Hoe after a (4-6) season, but are making improvements after going a combined (2-16) from 2010-11.
Stuart led the team in solo and total tackles along with passes defended, but he realizes there is a lot of hard work ahead. "Our goal is to win a championship, which is a dream that has been a little cloudy as of late, but I feel like we are moving in the right direction".
He recently attended Idaho and Montana junior days and says, "I am excited for what god has in store with those schools and my relationships with them moving forward… I have also been in contact with the D coordinators at PLU and Whitworth".
You won't find a much more grounded athlete then Gillin, as he truly is a team first kid. We wish Stuart and the Blue Devils continued success going into 2013, and we will keep you updated as the off season progresses.