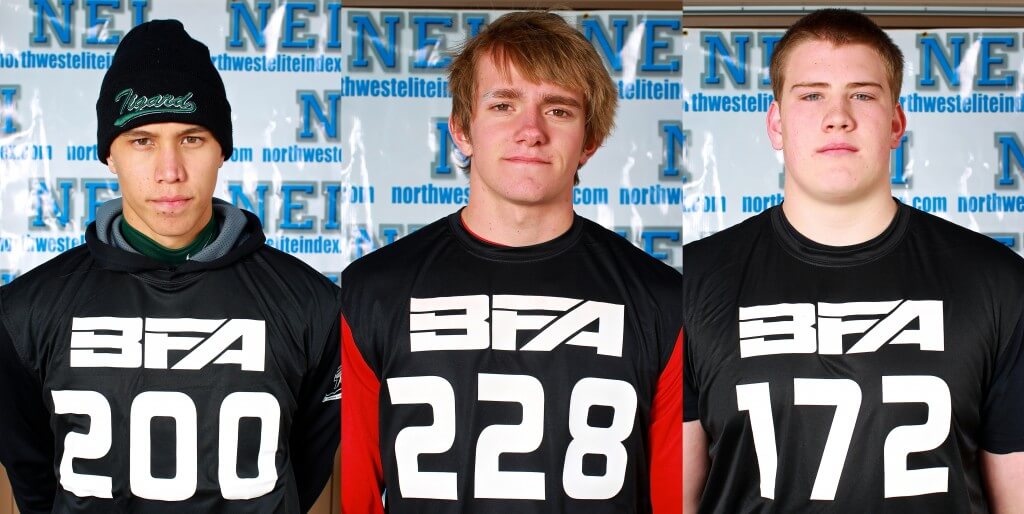 ** Full breakdown of all the athletes by position coming soon
Our Barton Camp and Combine Tour kicked off in Bend on Sunday at Summit HS where the athletes didn't disappoint. Almost every top kid from the Central Oregon area was in attendance, along with a host of the region's other elite players.
It was a cold, yet a very exciting and productive Sunday. Have a look at the MVP's for the day, and check the breakdown coming to NEI (up shortly) on all of the kids who represented for their area.
OVERALL
Offensive MVP
Manu Rasmussen, Tigard (OR) 6-0 175 RB/DB
The Pacific Conference Player of the Year favorite looked the part and then some. Manu has developed a great deal physically over the last year, and projects as a kid that could go for 30+ Tds and 2000 yards next season.
All of his testing times were at the top of the charts, as he ran past and shut down almost every opponent he faced. Consistent performances like the one he had Sunday could land him a D1 offer.
Defensive MVP
Jace Johns, Mountain View (OR), 6-3 185 LB/WR
Johns is a kid that will be jumping up our rankings board quickly, returning after a 1st team all league season at LB. He will be a primary target offensively at WR in 2013, and play a role very similar to all-everything athlete John Carroll who will be going to Oregon State.
Johns is long, and sneaky strong. His overall athleticism, combined with frame make him a very appealing recruit. He could easily pack on some weight in college and be an extremely athletic backer.
Line MVP
Austin Phillips, Mountain View (OR), 6-4 270 C
As of right now Phillips is ranked our top center in the state of Oregon for the 2014 class and on Sunday he didn't disappoint. Austin is a 4.1 student (AP), and a kid that has ideal size for any athlete in the middle.
One of the region's best coaches, Brian Crum (Mt View), says that he is comparable to standout lineman Chad " Texas" Bach who is headed to Portland St on a full ride. Phillips moved very well for a big man, and has all of the intangibles you want in a center.
POSITIONAL
QB
Derrick Becker, Capital (WA), 6-0 175 Jr.
Nolan Henry, Union (WA), 6-0 185 So.
RB
Boomer Fleming, Ridgeview (OR), 5-11 195 Jr.
Keenan Springer, Mountain View (OR), 5-11 190 Jr.
WR/TE
Austin Albin, Mountain View (OR), 6-5 195 So.
Jacob Ridgeway, South Medford (OR), 6-2 210 Jr.
LB
Hunter McDonald, Bend (OR), 5-11 190 So. (FB)
Coleman Aamodt, Ridgeview (OR), 5-11 190 Jr.
DB/Slot
Daren Rodrigues, Tigard (OR), 5-10 165 Jr.
Nick Janakes, North Medford (OR), 6-0 190 So.
Frosh Overall MVP – Zach Smith, Capital (WA), 5-10 165 WR/CB
Frosh Positional MVP – Kaden Wadsworth, Summit (OR), 6-3 170 WR
8th Overall MVP – Connor Neville, West Linn (OR), 6-1 160 QB / Zach Diehl, Sheldon (OR), 6-0 165 QB
8th Positional MVP – Jonny Neville, West Linn (OR), 6-3 165 WR