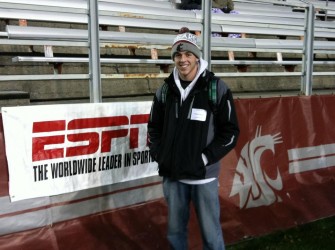 It's not often you hear about a player missing his entire junior season, while still garnering major recruiting interest as one of the top regional prospects at his position. But that's exactly the case for Parkland (Wash.) Franklin Pierce LB Brett Carter.
Carter, who is currently the state of Washington's No. 8 ranked linebacker, missed all of 2012 due to an injury sustained two days before the season, yet has had a very active offseason on the recruiting front – and an even bigger spring and summer ahead of him on the camp circuit.
We recently caught up with the 6-foot-3, 200-pounder after he took several campus visits to Washington State, Eastern Washington and the University of Washington.
At Wazzu and Eastern, Carter was able spend time with multiple members of both coaching staffs and tour both school's campus and athletic facilities. At EWU, he had a lengthy meeting with head coach Beau Baldwin.
"At Eastern, Coach Baldwin took me into his office and he met with my family and me for about an hour," Carter told NEI. "It was a great conversation and he's very easy to connect with."
He adds, "I am really liking Eastern, they have been very up front with me about the recruiting process and where they stand with how they handle offers."
Carter rounded out his "tour" – which also included a trip to Arizona State's Junior Day earlier this spring – with a visit to UW, to take in in a practice and meet with coach Peter Sirmon, who, along with all of the coaches Brett spoke with, plans come watch during spring ball.
He has also spent the offseason continuing to rehab his leg and says he is currently at about "85-90" percent. He is on track to be at 100% by the end of May, which will signify the kickoff "camp season" for him.
Carter's impressive camp itinerary includes the Barton Football Academy/NEI combine stop in Bellevue on May 26, as well as camps at Washington State, San Diego State, Washington and Eastern Washington. He will also attend spring games at both UW and EWU. He intends on concluding his camp schedule at our Showcase Event on June 30.