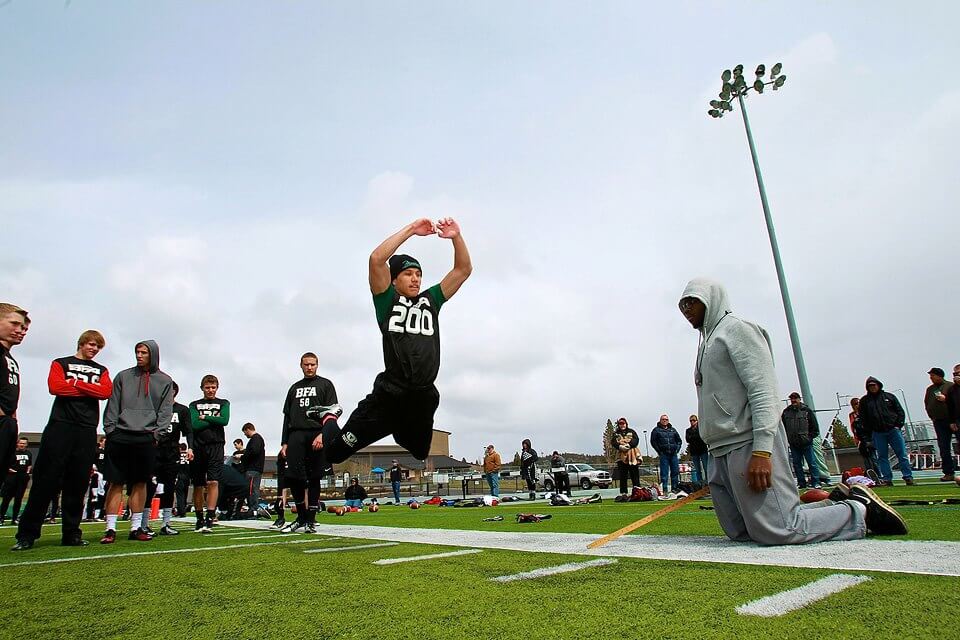 *Testing times are located at the bottom, and videos will be available on the site later in the week. Enjoy the breakdown as we genuinely appreciate the hospitality from the Central Oregon families, players, and coaches.
Jordan Johnson – NEI
QB's
Any time you have the top QB coach in the country in your own backyard, you can bet the top quarterbacks will be out in full force. I give a lot of credit to the Central Oregon kids, who had almost every starting QB and top youth kid in attendance.
IMC returning and potential starters Blake Knirk (6-2 200 Jr.) and Caleb Tatum (6-3 185 So.) of Mt View, both could be two of the better QB's state wide moving forward. Cody Anthony (6-1 210 So.) of Bend looks to be the front runner for the Lava Bears starting job, working hard all off season.
Josh Gallagher of (Summit) and Jacob Johnson of (Ridgeview), both return as the starting QB's from their respective schools.
There were also a host of QB's from outside the region who had good days. Both Derrick Becker (6-0 175 Jr.) of Capital HS in Washington and Nolan Henry (6-0 185 So.) of Union, WA split MVP honors for the upperclassmen, and Troy Fowler (5-11 165 So.) of North Medford looked outstanding. Becker will be a three year all league starter, and Henry is one of the top Sophomores in the state.
Fowler will be a three year starter, and is the leader of a Black Tornado program in the middle of a turnaround. Jacob Moore of Cascade Christian is a big strong kid and will be another three year starter at the 3a school.
Jett Even just continues to grow, and will lead one of the top 6a teams in the state after a very efficient junior season. Logan Tovey is undersized, but looks to be the QB for Justin Starck's Thurston Colts who seem to be in the mix every year.
The younger QB's in rural Central Oregon were one of the more impressive groups that we have seen. Connor Neville of West Linn and Zach Diel from Sheldon split MVP honors among 8th grade QB's. Dielh's 8th grade team didn't lose a game and Neville looks like one of the top kids in the country for the class of 2017.
Bransen Reynolds (Summit) and Noah Spear (Mt View) are two very talented freshman with size that will do well, while Chase Lettenmaier (Summit/Bend) and Bunker Parrish (Redmond) look to be a couple of the more polished 8th graders in the state.
Ian Lybarger and Mike Irwin (Mt View) rounded out a very impressive group of athletes at the quarterback position. The Intermountain Conference will have some of the most talented QB's in Oregon over the next few seasons, and it was great getting out to see the group.
RB
A very impressive group of backs represented all over the place on Sunday , with Boomer Fleming (5-11 190 Jr.) of Ridgeview and Keenan Springer of Mt View grabbing Co MVP honors. Fleming ranks as one of our top 10 backs in Oregon for the 2014 class, while Keenan looks to be one of the featured backs in the IMC this season.
Three of the state's top ranked sophomores made the trip over and did their thing. Nick Janakes (6-0 190 So. RB/S) of N.Medford is one of the NW's top two way athletes, with Austin Mason (5-8 170 So.) of LIberty HS in Hillsboro ranking as one of our top 10 RB's state wide for 2015 class.
Hunter McDonald (5-11 190 So.) of Bend could be ranked our top fullback for 2015, as he will be a three year starter and one of the more impressive kids at the entire camp. His 410 pound bench press speaks to his ridiculous strength.
Reece Rollins (6-0 185 Jr.) of Ridgeview was an all league athlete last season, and is one of the more under the radar kids in Oregon. Look for Rollins to enter our rankings board as an ATH and do well in 2013.
Austin Sandsness of Sisters is one of the fastest freshman in the entire region and can play multiple spots on the field. You can expect to see him be the featured athlete for his high school in the years to come.
Wesley Johns of Ridgeview had an impressive junior year and an equally good camp, with Dawson Ruhl of Summit getting in the mix as well.
Last but definitely not least was super shifty and fun to watch freshman Joseph Rixe. Coaches loved his ability to cut and accelerate, as you can expect him to be a factor moving forward in the Lava Bear system.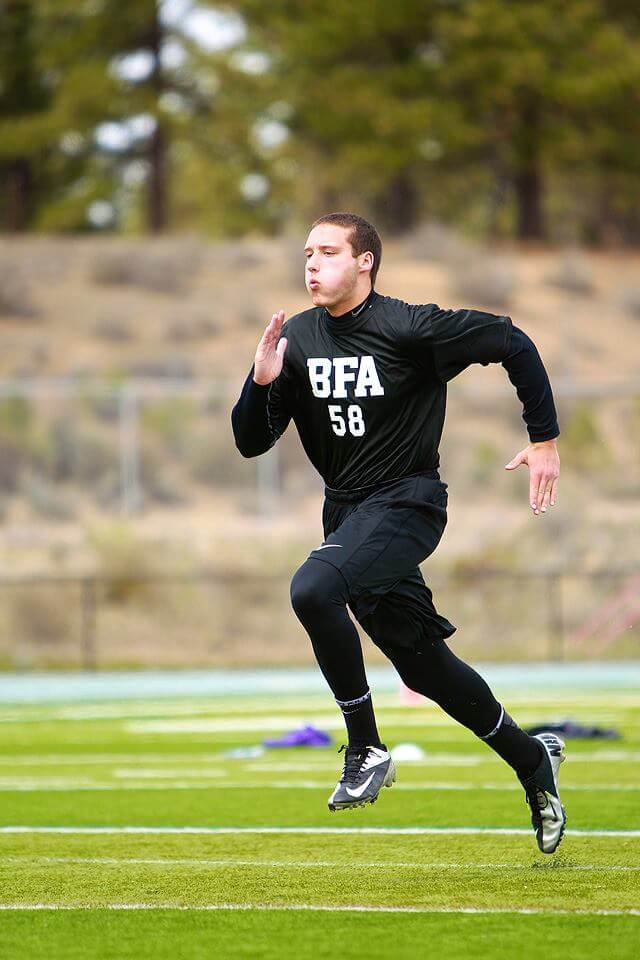 SLOT/WR/TE
Zach Smith of Capital, WA stole the show over the weekend and was given the Freshman MVP. He projects as a two way varsity starter this season and one of Derrick Becker's primary targets moving forward.
Mt View will have one of the top receiving cores in the state, with three of the top kids showing why over the weekend. Austin Albin (6-5 200) MVP'd the day and ranks as one of our top 5 sophomore WR's in Oregon. He will be looking to improve upon his testing this off season.
Nick Hjelm was the another returning Cougar starter that should do well, along side standout athlete Jace Johns who will be the teams other featured senior receiver.
6-3 8th grade WR Jonny Neville is a "Freak", and battles the top older athletes at every camp with no fear. Neville could end up being one of the most special wide outs to come through these parts in a long time. His MVP award speaks to his dominance among ALL younger WR's.
Jacob Ridgeway (S.Medford) and Caleb Bowen (Bend) both did a very good job from their TE position. Ridgeway will look to be a senior leader for South, who could once again come in one of the state's top 10 ranked teams. Bowen is another kid with size that traveled to Portland for our elite events in the winter.
Three junior athletes that had outstanding camps were Daren Rodrigues of Tigard , Tanner Boone of Thurston, and Conor McCreary of Ridgeview. Rodrigues could have a breakout year for the talented Tigers this season, as he is super quick and shifty and will be able to exploit all of the attention given to Manu Rasmussen and AJ Hotchkins.
Boone had one of the more impressive days of anyone at the camp and was definitely in the positional MVP discussions. Im a big fan of McCreay, as he just continues to get better and won't get outworked.
Kaden Wadsworth (Summit) is a freshman that had a very good day, and could do some big things moving forward as you cant teach size. Anthony Lozano (Mt View), Trevor Romine (Bend), Logan Schutte, and Brayden Durfee were four other kids that came out and did well. In all the skill kids had a very good showing, with certain athletes stepping up and making a name for themselves.
LB/DB
Defensive MVP Jace Johns (6-3 185 Jr.) had a great day, but the same goes for Coleman Aamodt (5-11 190 Jr.) . His speed and anticipation to the ball was very visible, as he will return as one of Ridgeview's top players and a kid that could play at the next level.
Junior Brodie Blok 5-11 160 (Mt View) was in the MVP discussions with his testing being off the charts. He was another kid that stuck out, along with Sophomore backer Tanner Hanson (Bend) who seems to always be in the right place.
The Klein family from Mt View has talented kids up and down the board, with sophomore Ben Klein coming off a successful 2012 season. He will be one of the better backers in the IMC, with the young Spencer Klein making his own name and coming up the ranks.
Aidan Jackson and Sean Kent were two of the younger athletes from Summit. At the end of the day multiple coaches made it over to tell me about the impressive showing both had. Nice words from a bunch of former D1 and NFL guys.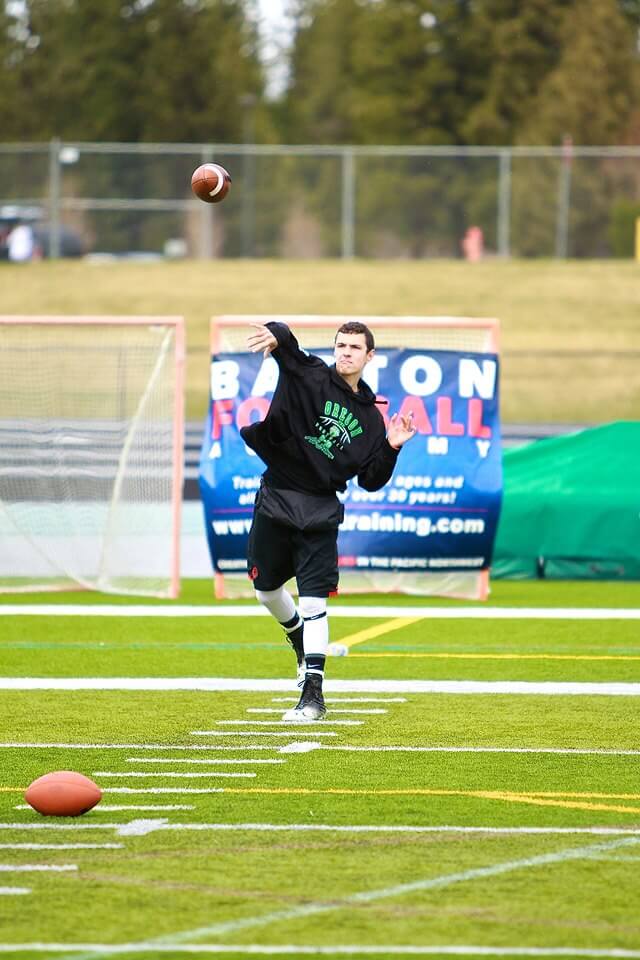 LINE
The line numbers weren't huge, which meant some outstanding training for all of the guys working with former Oregon St standout and Chicago Bear Alex Linnenkohl.
Austin Phillips is one of the top lineman state wide and MVP'd the day. David Barram (Summit) and Noah Cooper (Summit) will be part of an impressive group coming up, while returning 2nd team all league C Blake Garrison (Summit) looks to be one of the better players in the IMC.
Noah Klein was the other young lineman from Mt View that has football genes and a big upside.
Testing Times
Varsity
| | | | | | | | | |
| --- | --- | --- | --- | --- | --- | --- | --- | --- |
| Last Name | First Name | 40 Yard Dash | Shuttle | Long Jump | Height | Weight | Wing span | Hand size |
| | | | | | | | | |
| Aamodt | Coleman | 5.07 | 4.37 | 9'1″ | 71″ | 182 | 71″ | 8.8″ |
| Adamo | Christopher | 4.97 | 4.41 | 8'5″ | 69″ | 146 | 69″ | 8.3″ |
| Anthony | Cody | 5.06 | 4.80 | 7'10" | 73″ | 211 | 73″ | 8.9″ |
| Albin | Austin | 5.05 | 4.55 | 9′ 0.5″ | 77″ | 193 | 77.5″ | 9.8″ |
| Barram | David | 5.64 | 4.89 | 6'9″ | 67″ | 138 | 68.5″ | 8.3″ |
| Becker | Derrick | 4.81 | 4.35 | 9′ 3.5″ | 72″ | 179 | 72″ | 9″ |
| Brodie | Blok | 4.85 | 4.36 | 9'10" | 71″ | 152 | 72″ | 10″ |
| Boone | Tanner | 4.88 | 4.69 | 8'2″ | 72″ | 166 | 69.5″ | 8.2″ |
| Bowen | Caleb | 5.09 | 5.00 | 7'7″ | 74″ | 199 | 74.5″ | 9.5″ |
| Cooper | Noah | 7.70 | 6.31 | 5'1″ | 66.5″ | 239 | 67″ | 8.2″ |
| Diehl | Zach | 4.98 | 4.56 | 7'5″ | 71″ | 169 | 70″ | 8.5″ |
| Durfee | Brayden | 5.25 | 4.62 | 7'10" | 63″ | 105 | 64.5″ | 7.8″ |
| Even | Jett | 4.85 | 4.50 | 9'4″ | 75″ | 187 | 74.5″ | 8.5″ |
| Fleming | Boomer | 4.91 | 4.22 | 9'8″ | 71″ | 195 | 72″ | 9.9″ |
| Fowler | Troy | 4.92 | 4.44 | 8'10" | 71″ | 157 | 69″ | 8.9″ |
| Gallagher | Joshua | 5.29 | 4.86 | 7'8″ | 72″ | 185 | 72.5″ | 8.6″ |
| Garrison | Blake | 5.39 | 5.18 | 8'1″ | 71″ | 225 | 74″ | 9.5″ |
| Hanson | Tanner | 4.85 | 4.66 | 8'3″ | 69.5″ | 174 | 69″ | 8.2″ |
| Henry | Nolan | 5.19 | 4.50 | 9'1″ | 72″ | 183 | 74″ | 9.1″ |
| Hjelm | Nick | 5.00 | 4.62 | 9′ | 74″ | 182 | 72.5″ | 8.1″ |
| Irwin | Mike | 5.14 | 4.57 | 8'2″ | 72″ | 168 | 73.5″ | 9.8″ |
| Jackson | Aidan | 5.90 | 4.97 | 7'3″ | 63″ | 114 | 64″ | 8.3″ |
| Janakes | Nick | 4.88 | 4.72 | 9'3″ | 72″ | 184 | 72″ | 8.3″ |
| Johns | Jace | 4.65 | 4.32 | 9'10" | 75″ | 178 | 75″ | 9.5″ |
| Johns | Wesley | 5.03 | 4.72 | 8'4″ | 71″ | 206 | 69″ | 8.3″ |
| Johnson | Jacob | 5.13 | 4.97 | 8'1″ | 75″ | 178 | 74.5″ | 8.6″ |
| Kent | Sean | 5.02 | 4.67 | 8′ | 64″ | 130 | 62.5″ | 8.1″ |
| Klein | Benjamin | 5.35 | 4.90 | 7'9″ | 69″ | 193 | 71″ | 9″ |
| Klein | Noah | 6.53 | 6.09 | 4'9″ | 70″ | 240 | 70″ | 8.4″ |
| Klein | Spencer | 5.34 | 5.04 | 6'8″ | 67″ | 190 | 69″ | 9″ |
| Knirk | Blake | 5.13 | 4.75 | 8'6″ | 74″ | 197 | 77″ | 8.2″ |
| Koski | Jonah | 4.70 | 4.32 | 9'1″ | 76″ | 194 | 74″ | 10.1″ |
| Lettenmaier | Chase | 5.56 | 4.82 | 7'10" | 70″ | 157 | 68.5″ | 8.8″ |
| Lozano | Anthony | 5.41 | 4.90 | 7'2.5″ | 69″ | 145 | 70″ | 8.5″ |
| Lybarger | Ian | 4.73 | 4.71 | 8'6″ | 75″ | 177 | 74″ | 8″ |
| Mason | Austin | 5.10 | 4.29 | 7'5″ | 67″ | 175 | 67.5″ | 8.3″ |
| McCreary | Conor | 4.92 | 4.69 | 7'11" | 73.5″ | 203 | 71.5″ | 8.1″ |
| McDonald | Hunter | 4.75 | 4.60 | 8'3″ | 71″ | 182 | 71″ | 8.9″ |
| Moore | Jacob | 5.09 | 4.66 | 8'7″ | 75″ | 189 | 74.5″ | 9.6″ |
| Neville | Jonathan | 5.25 | 4.47 | 8.3″ | 75″ | 169 | 73.5″ | 8.8″ |
| Neville | Connor | 5.21 | 4.55 | 8'9.5″ | 73″ | 159 | 72″ | 9.1″ |
| Parrish | Bunker | 5.05 | 4.80 | 8′ | 70″ | 165 | 72″ | 9.8″ |
| Phillips | Austin | 5.80 | 5.22 | 7'4″ | 75″ | 273 | 79″ | 10.2″ |
| Rasmussen | Manu | 4.56 | 4.18 | 10'1″ | 70.5″ | 171 | 70.5″ | 8.4″ |
| Reynolds | Bransen | 5.10 | 4.80 | 8'7″ | 72″ | 157 | 72″ | 9.2″ |
| Ridgeway | Jacob | 5.03 | 4.64 | 7'9″ | 74.5″ | 217 | 74.5″ | 9.1″ |
| Rixe | Joseph | 4.90 | 4.69 | 7'4″ | 64″ | 143 | 62″ | 8.2″ |
| Rodrigues | Daren | 4.94 | 4.30 | 8'10" | 68.5″ | 149 | 70.5″ | 9″ |
| Rollins | Reece | 4.91 | 4.31 | 9'2″ | 71.5″ | 175 | 72.5″ | 9.5″ |
| Romine | Trevor | 5.29 | 4.69 | 7'11" | 70″ | 145 | 73″ | 8.9″ |
| Ross | Lucas | 5.03 | 4.52 | 9'7″ | 74″ | 148 | 74″ | 8.6″ |
| Ruhl | Dawson | 5.28 | 4.49 | 7'9″ | 67″ | 128 | 67″ | 8.2″ |
| Sandsness | Austin | 4.91 | 4.74 | 7'8.5″ | 67″ | 151 | 64.5″ | 8.1″ |
| Schutte | Logan | 5.24 | 4.49 | 8'2″ | 69″ | 150 | 69″ | 9.1″ |
| Smith | Zach | 5.06 | 4.65 | 8'3.5″ | 69.5″ | 154 | 68″ | 8.3″ |
| Spear | Noah | 5.50 | 4.56 | 7'8″ | 74″ | 141 | 73″ | 9.3″ |
| Springer | Keenan | 4.77 | 4.50 | 8'8″ | 70″ | 179 | 72″ | 9.5″ |
| Tatum | Caleb | 5.25 | 4.70 | 8′ | 75″ | 179 | 71″ | 9.2″ |
| Tovey | Logan | 4.85 | 4.42 | 8'1″ | 67.5″ | 149 | 67.5″ | 7.5″ |
| Wadsworth | Kaden | 5.29 | 4.90 | 7'2″ | 74.5″ | 172 | 73″ | 9″ |
Youth
| | | | | | | | | |
| --- | --- | --- | --- | --- | --- | --- | --- | --- |
| Last Name | First Name | 40 yard dash | Shuttle | Long Jump | Height | Weight | Wing span | Hand size |
| | | | | | | | | |
| Choffel | Riley | 6.69 | 5.44 | 5'1″ | 58.5″ | 82 | 56″ | 7.9″ |
| Hatfield | Logan | 5.88 | 5.20 | 6'5″ | 64″ | 106 | 64″ | 7.5″ |
| Kjellesvik | Haakon | 5.39 | 4.80 | 8'1″ | 67″ | 132 | 69″ | 8.7″ |
| Marderos | Cian | 6.4 | 5.15 | 6'2″ | 66.5″ | 138 | 66.5″ | 9.2″ |
| Neal | Connor | 6.44 | 5.22 | 5'3″ | 54″ | 69 | 53″ | 7.1″ |
| Phillips | Cody | 7.00 | 5.80 | 5'3″ | 60″ | 143 | 61″ | 7.3″ |
| Sandsness | Alec | 6.20 | 5.60 | 5'9″ | 57″ | 126 | 57.5″ | 7.5″ |
| Telenko | Nick | 7.40 | 6.10 | 4'7″ | 64″ | 164 | 66″ | 8.2″ |
| Waller | Brandt | 6.84 | 5.80 | 6'2″ | 62″ | 160 | 62″ | 8″ |
| Wessel | Brady | 6.20 | 5.60 | 5'9″ | 65″ | 101 | 67″ | 8.4″ |