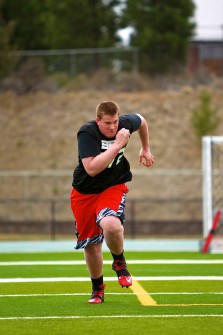 It's hard to imagine being the No. 3 ranked offensive lineman in the state of Oregon, standing at 6-foot-3 and weighing 273-pounds, and at the same time being "under the radar". But that's exactly the case for Bend (Ore.) Mountain View center Austin Phillips.
That, however, should be changing soon for the anchor of the Cougars' O-line.
After a junior season which saw him named All-League 1st Team, and All-State honorable mention, Phillips brought home Line MVP honors at Sunday's BFA/NEI Combine in Bend, OR.
Austin is hard at work preparing for his senior season, one in which he will see a new role as a defensive tackle for the Cougs. But being a projected two-way starter isn't something he is intimidated by. Instead, it's given Phillips new goals to work towards in his senior season.
"I would like to earn First Team All-State this year, and wanna try and get at least First Team All-League for defense,' Phillips tells NEI. "But my main focus is on our team goal of getting back to the state title game (which MVHS won in 2011) and bringing it home."
"That 2011 team set a standard here, and we want our 2013 to match that standard and begin a real legacy here," he adds.
It's obvious in talking to Phillips that his team and his schoolwork – he carries a 4.1 GPA – are his top priorities. He hasn't been active in setting up recruiting visits to colleges, electing to wait until summer, but that doesn't mean colleges aren't already starting to take notice of him.
Arizona State, Portland State, San Diego State, Yale, Washington, Oregon State and Stanford are the schools Phillips says he has been receiving mail from. He has invites to, and plans to attend, camps at both Portland State and UW this June, but doesn't yet have a favorite of the schools that have been contacting him. When it does come time to decide on his college future, however, he knows exactly what he is looking for.
"I want a mechanical engineering degree, so I would love to go to a place like Texas A&M or Texas Tech," Phillips says. "I grew up on the west coast, so I think it would be cool to go to school in the South, and experience new places."
For now, though, his focus remains on the season ahead. He says the team has already began prepping for the season by watching film and doing chalk talks.
As much as Phillips tries to shy away from the spotlight, you can bet he won't stay under the radar much longer.