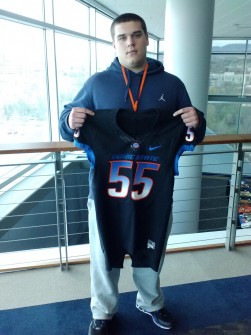 One of the state's top lineman coming into next season will be Zach Kraus (6-3 275 Jr. OL) of Canby. He will be the leader of a Cougar line that should be listed among the region's top up front casts.
Zach will be a three year all league starter, on a line that will feature two other big time returners in Nick Kraxberger (6-4 265 Jr. OL) and Craig Fobert (6-3 265 Jr. OL). Kraus attended our elite events during the winter and did very well for himself.
Canby will be one of our top 10 ranked teams coming into the season at the 6A level. They have legit skill kids all over the field to go with the big boys up front. Sam Bodine (6-2 225 Jr. LB) is ranked our #2 LB state wide and will have 10+ offers before he is done. The fact that he hasn't been offered already is comical.
As good as Zach is, his brother may end up being even better. Tony Kraus (6-3 230) is only a freshman, and was one of only two 9th graders on the varsity roster last season. He is still growing, and could end up being one of the best lineman in the entire region for the 2016 class.
While on his Junior Day visit to Boise State Zach said, "Personally I want to be dominant and earn a D1 scholarship next season… We have all played together for a long time, and we want to be the state championship team that we all know we can be".
Kraus will most likely have to move to a center/guard position at the next level with his goal being D1 football. He is currently doing well from his tackle spot, but knows that he must be versatile if he wants to play at the highest level.
Zach is a kid that we became big fans of over the off season, as he demonstrated a phenomenal attitude and work ethic to go along with his skills. We currently have Kraus listed as our #6 lineman in the state of Oregon for the 2014 class,
We wish Zach, Tony, and the entire Canby program continued success moving into the spring. They are class kids on and off the field and we only expect great things moving forward.