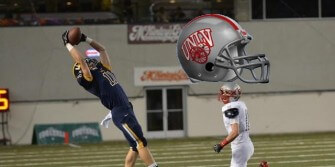 Bellevue senior DB Timmy Haehl picked up his second D1-FBS offer on Wednesday, when he was offered by UNLV.
The 6-food-1, 190-pound Haehl is currently ranked as the No. 4 defensive back in the state of Washington and was a key figure on Bellevue's 2012 State Title team.
Haehl was offered by Rebels defensive coordinator Tim Hauck.
"I had a chance to talk to Coach Hauck on the phone today and he offered me a scholarship," Haehl told NEI. "I am very excited about it."
Haehl was previously offered this offseason by Idaho, and figures to see several more offers heading his way before all is said and done.