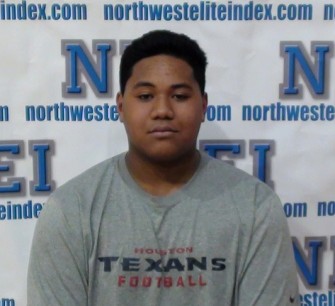 One of the Washington's top freshman Paul Finau of Juanita (Kirkland) High School entered a rare class when he was offered by BYU.
Finau was on a trip to Utah when he was invited to visit BYU. "They gave me a tour of their meeting rooms, offices, field house, stadium, and the locker room," Finau tole NEI. "I liked it a lot. The environment was different."
"Before I left we were in the weight room with all the coaches, literally all of them, they came up to me and were asking me questions". He continued, "One of them said 'I'm telling you this, we are offering you, and we would love for you to be here'. I looked at coach Mendenhall, he smiled and nodded."
Finau is the younger, yet bigger (6-3 290), brother of current University of Washington defensive lineman Jarett Finau. In January he began attending our Elite Events and showed every bit the ability of a D1 athlete.
The Juanita Rebels should be one of the better teams in the state this coming season, and Finau figures to be a big part of the line on both sides of the ball.
Before all is said and done, Finau could end up with double digit offers. I look forward to watching Finau continue to grow as a player, and a person.