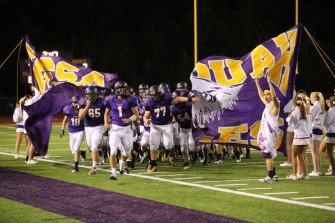 If the offseason they are having at Issaquah High School is any indication of the type of season the Eagles will have this fall, then 2013 could end up being a very special year for the boys in Purple and Gold.
Coming off 2012's 5-5 finish, many of the players were left with a bad taste in their mouths, and so they decided to get to work to ensure that the upcoming season is one to remember – and they wasted little time in doing so.
According to senior offensive/defensive lineman Shay Dingfelder an average of approximately 40 players have been staying after school several times a week since late January for player-led workouts, something Head Coach Chris Bennett has to be pleased about.
"We are really focused on building team chemistry," Dingfelder told NEI. "It's not only for us, it will be for Issaquah teams in the future, too."
Senior players such as Dingfelder, RB/DB Jack Gellatly, OL/DL Jacob Peterson, QB Jack Neary, DB/QB Tommy Nelson and WR/DB Paul O'Neill have been having strong a offseason and are poised to have big seasons along with several other Eagles.
It shouldn't be too surprising that this group of players is so focused chemistry and setting a standard for future Issaquah teams, many of them have been playing together since youth football and have a strong sense of ownership and responsibility in the program.
The players aren't the only ones putting in work to make this fall a special one for Issaquah HS, however, the coaching staff has been hard at work as well to prepare for the season ahead as well.
"Our team is looking forward to this year," Defensive Coordinator Fred Abila shared with NEI. "We think our commitment will meet our expectations. Coach Bennett expects us to be better on offense, and I fully expect us to play better on defense. We have high hopes for this season, but we understand it doesn't just happen. Our team and our staff are committed to putting in the work that it takes. We have a good mix of seniors and young up-and-comers, so it's going to be a fun year"
Those young up-and-coming underclassmen the Eagles will be counting on include RB/DL Andrew Dieken, WR/LB Parker Simon, WR/DB Matt Sarkozy, and OL/DL Sam Bisignano. Freshman WR Joe Nelson could also play a role for Issaquah on Friday nights.
Coach Bennett's Eagles squad seems to have that rare balance of talent and work-ethic that will no doubt make them one watch this fall, and could also make them one to look out for come playoff time.