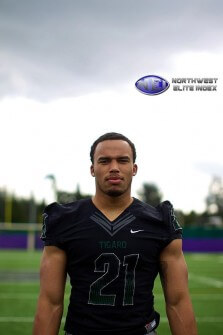 In what wasn't a surprise, the Portland St Vikings extended a full ride offer to notorious Tigard hitter AJ Hotchkins (6-0 230 Jr.) FB/LB) late this afternoon. AJ was offered a few weeks back by Idaho and was excited about his 2nd offer.
"I went to practice today and spent most of the time with the backers, it was really up beat and looked like something I could be a part of". He continued, " After practice Coach Burton called me over and said they wanted me to get my grades up, but were offering me a scholarship". Outstanding move by Head Coach Nigel Burton and the Vikings.
Hotchkins was a 1st team all league Fullback and D end this past season, and was part of our Oregon All Star squad that beat Team Alaska 40-29 in the winter showcase. AJ was given the defensive MVP for the game, and laid hat all week on anyone that got in his way.
The 2012 season saw Hotchkins play out of position at Defensive end due to his ridiculous strength. He has been at our elite events playing backer and doing well at his new position. AJ projects as a kid that could come in and play right away, as his strength creates match up problems all over the place.
There have been a host of D1's interested in AJ, much like Iowa who stopped by to see him in their recruitment of Johnny Ragin a few months back. He has quickly become an NEI favorite and a kid that we are big backers of.
Congratulations to AJ on his second offer. He will be one of the most recruited LB/FB's on the west coast, and have a bunch of different options before all is said and done.