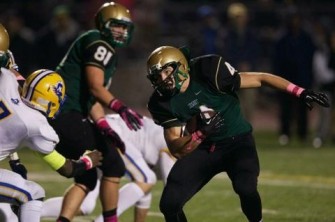 When decision time comes Joey Alfieri (6-3 225 Jr. LB/FB) could legitimately be picking between some of the nation's top schools. The junior linebacker picked up his 10th offer from the Stanford Cardinal today and this was one was extra big.
Alfieri said, "It was huge getting the offer to play at Stanford, it s got the whole package with an amazing school and football program".
He continued, "I'm visiting in June to go to their camp and junior day, and I spoke to several coaches on the phone today when they offered… Its definitely one of my top choices".
The Jesuit linebacker takes a lot of pride in his academics, so the Cardinal offer obviously carries a lot of weight. He carries a 3.8+ GPA with all AP classes, so he's not messing around on or off the field. The fact that it is one of the best schools in the world is very appealing.
We could very well see universities such as Notre Dame and Oregon come in on the in the state talent in the near future. Joey and teammate Henry Mondeaux are blowing up on the recruiting front, and may go down as two of the most high profile recruits in state history.
Going into Friday Alfieri had already been offered by Washington, Washington St, Arizona, Arizona St, Oregon St, Boston College, Yale, and Harvard. You aren't going to find a much classier athlete and we genuinely appreciate all of the support from the Alfieri family.
Congrats to Joey on another big time offer. Its only April and the kid is already considered one of the best backers in America for the 2014 class.