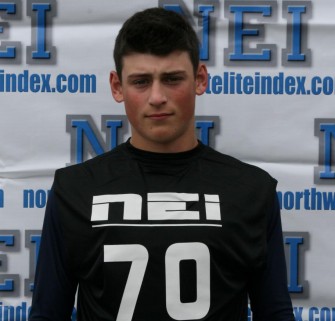 At South Hill (Wash.) Emerald Ridge, Jaguar players are asked to embody five core values – attitude, humility, sacrifice, team and excellence. Class of 2015 WR Brett Rankin has been on a quest this offseason to demonstrate that he possesses them all.
As a sophomore, the 5-foot-11, 180-pound Rankin saw time in nine varsity games, primarily as a slot WR, while also handling some kick-return duties. But in 2013 both Rankin, and his coaches, will be looking for him to become an impact player in the Jaguars' offense.
However, Rankin's motivating factors aren't for himself, they're for his team.
"I want to do whatever it takes to help our team win both on and off the field," Rankin tells NEI. "I really love our coaches and how invested they are in making us championship men first."
This team-first talk from Rankin isn't just lip-service, he has spent the last four months working to back it up with his actions.
Brett has been a regular attendee, and standout performer, at Elite Events this offseason, spending countless hours perfecting his game and working closely with Barton Academy coach, former WSU WR, Mike Bush.
The work Rankin has been putting in hasn't gone unnoticed by his coaches at Emerald Ridge, either.
"Early on, Brett realized that his work ethic would become his signature of respect among the seniors," Emerald Ridge Co-Coach Troy Halfaday shared with NEI. "Brett's pursuit of excellence is uncommon. Excellence to Brett is a destination, not for him, but his team."
Rankin isn't the only player projected to make noise for the Jaguars this fall, however. All-SPSL 1st Team Athlete Landon Jones returns, while WR Jake March and RB Ashanti Kindell have a chance to be all-league at their respective positions. Linemen Michael Ciocco and Michael Overhulse will provide toughness in the trenches. The quarterback position will be settled by a three man competition between Ryan Knowlton, Goy Mal, and Griffin Meyers.
It's getting to take the field with those teammates that has Rankin looking forward to the season ahead. "I believe that we have the coaches, players, and community support to turn some heads this season," he says.
Brett also demonstrates a high level of commitment off the field, as well. He carries a 3.6 GPA, managing a workload consisting of mostly honors classes. He also has volunteered at Seattle Children's Hospital, and coached and refereed youth flag football.
"As a coach, I have come to enjoy what makes Brett a special player," Coach Halfaday says. "Others will see a great football player on Friday night, however, I hope people understand that Friday only arrived because of the "five value" filled days prior to game night that he committed to with integrity."
It's that level of commitment, not just by Rankin, but permeating through much of the Jaguar program, that has Emerald Ridge football headed in the right direction.